The next time you host a party, why not send your guests home with something to remember the evening? In this article, you will find some amazing gift ideas for your party guests. In addition to being a nice gesture, gifts are a great way for your friends to bring something into their home that is your unique style. They will think of you each time they see it or use it and it will serve as a memento of the wonderful evening you spent together.  These are also gifts that guests can bring their hostess as a show of appreciation for the time and effort that went into planning the party, and as a reminder of the enjoyable time they spent with her.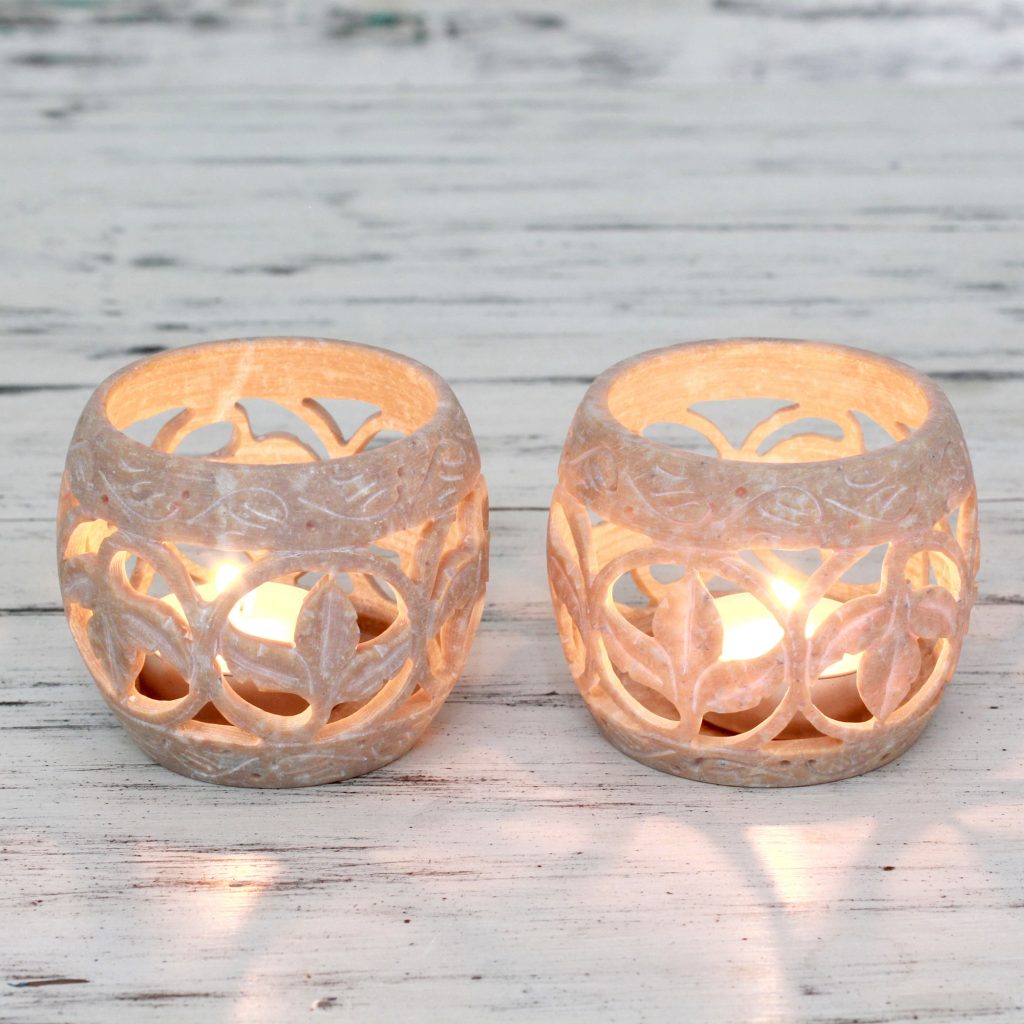 These gorgeous tea light artisan candleholders, aptly named 'Tendril Tales' would make beautiful accents for an outdoor dinner party, or for an intimate gathering indoors. They would be a nice gift to bring to the hostess, or she could surprise guests by sending some tea lights home with them at the end of the evening. If the hostess uses the tea lights at the party, the guests may perceive this as something belonging to her and may be resistant to accepting something they feel she should keep. Therefore, it may be a good idea to have unopened, and perhaps wrapped, sets to give to guests. These unique tea lights were carved by the artist Gulam Rasool of India.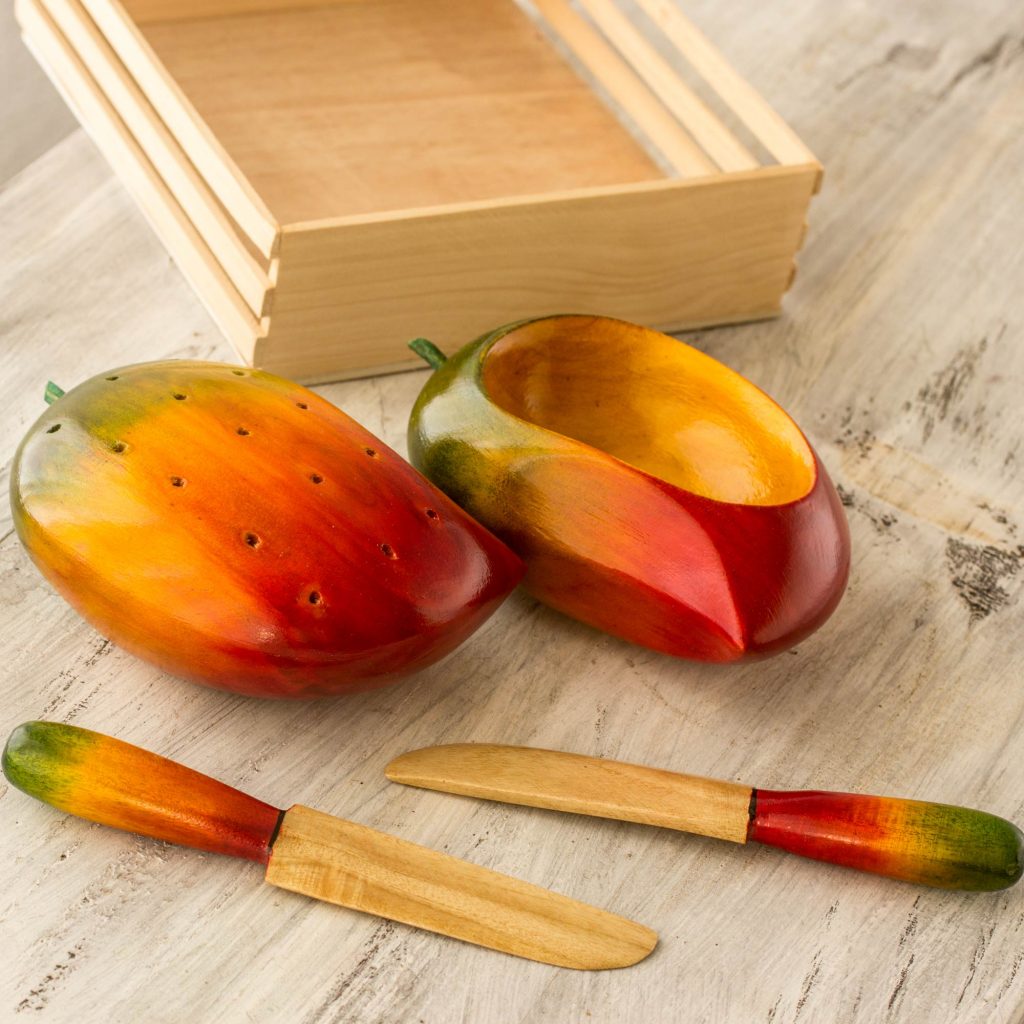 This cypress wood canape set, crafted and hand painted to look like two delicious mangos, is something the hostess can use for serving hors d'oeuvres at her party, and surprise guests with a set of their own to take home. The set includes a bowl for dip or cheese, or really anything one would want to serve, as well as a holder for hors d'oeuvres on toothpicks. Two matching spreading knives and a tray are also included with the set. A guest attending the party might choose to bring this canape set with food in it, and give it to the hostess as a gift to keep. This is the work of the craftsman Victor Hugo Lopez in Guatemala.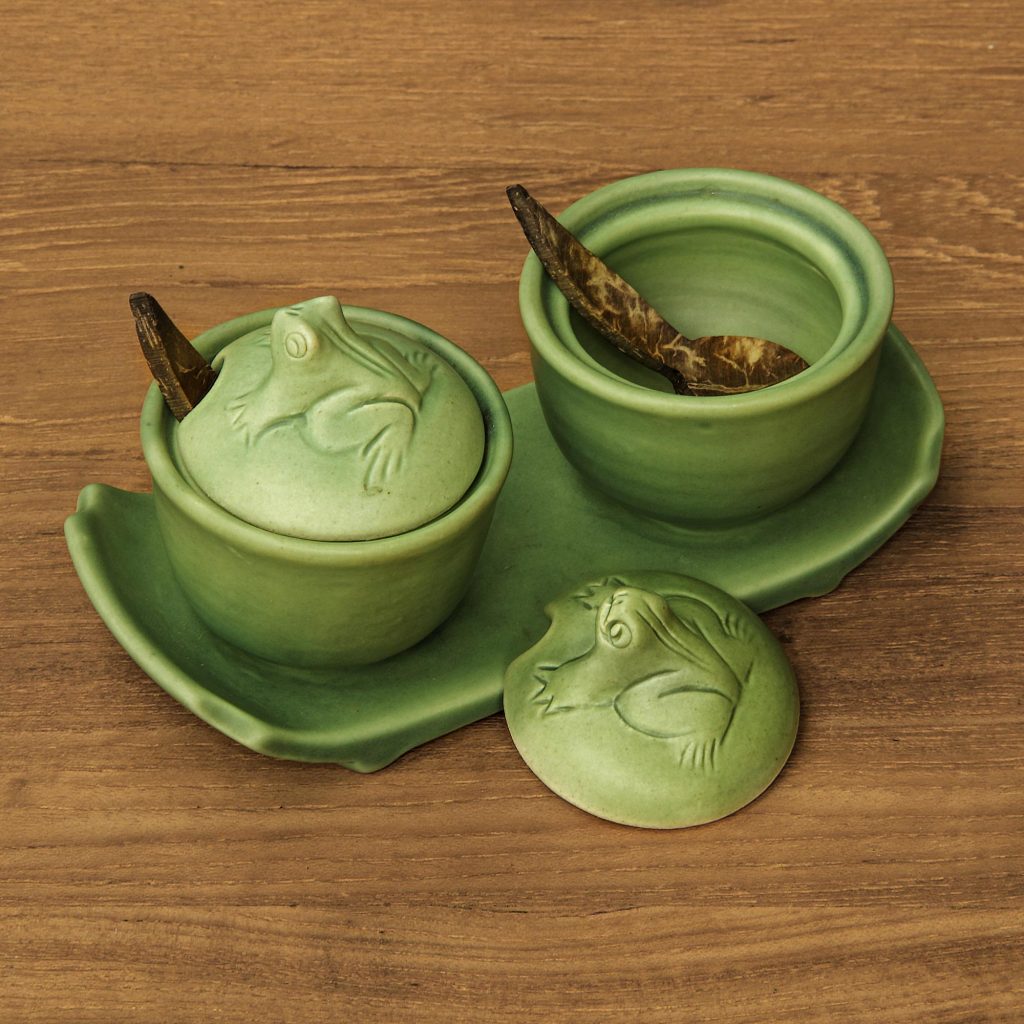 This adorable ceramic condiment set would be a great addition to any table setting, as well as make a great gift. The bowls are attached to the tray, and the spoons included in the set are made from coconut shells. This is an original design by the artist, Putu Oka Mahendra of Indonesia.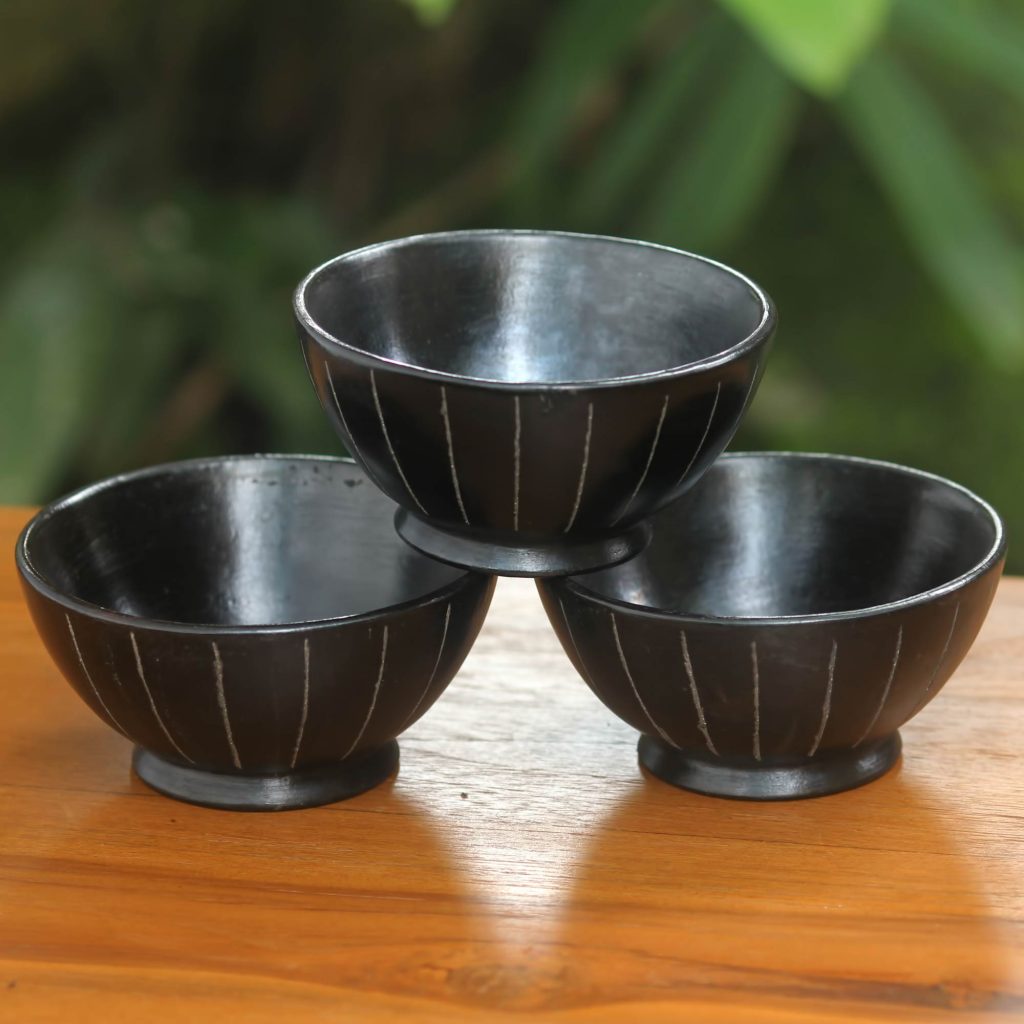 Lidi aren means "ribs of palm leaves" and the design on this set of three black ceramic bowls is an homage to the palm leaf. Matching bowls always look nice for serving dips or condiments, but can also be used to serve soup before dinner, or a warm dessert afterward. These bowls from the Lombok Pottery Center in Indonesia would be a useful gift to give to guests or a hostess.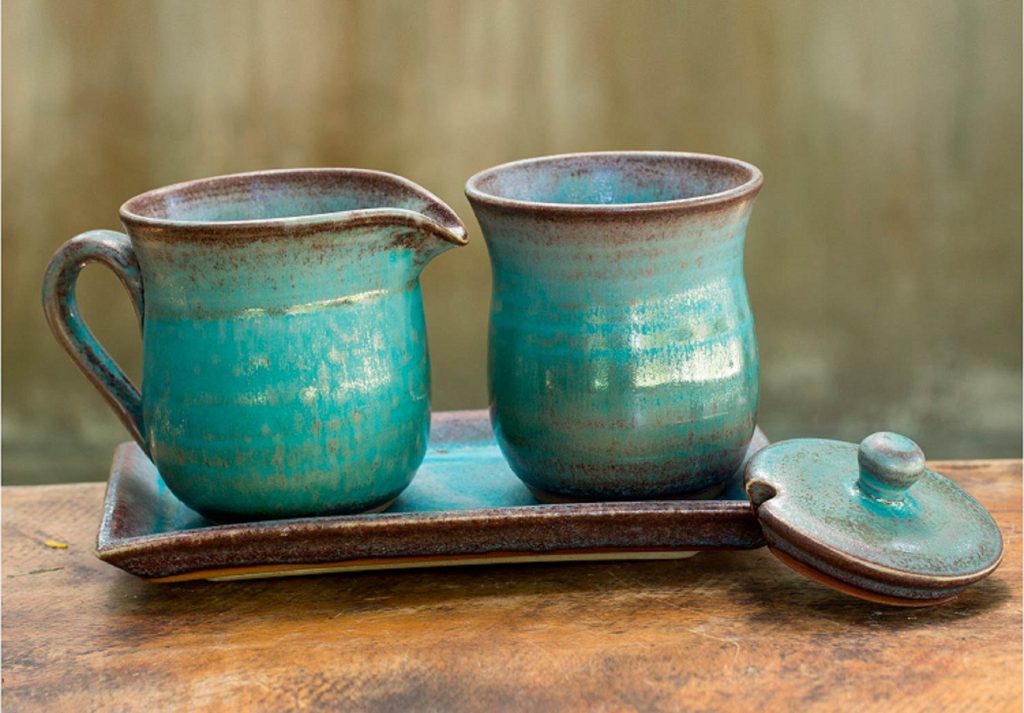 This beautiful and vibrant turquoise cream and sugar ceramic serveware set, entitled 'Nostalgic Siam' would be a wonderful addition to any home's tableware for a tea party, or for serving coffee after dinner.  Giving guests a cream and sugar set would be so quaint and fun – the perfect ending to a lovely day. This set was made by the artisan Duangkamol in Thailand.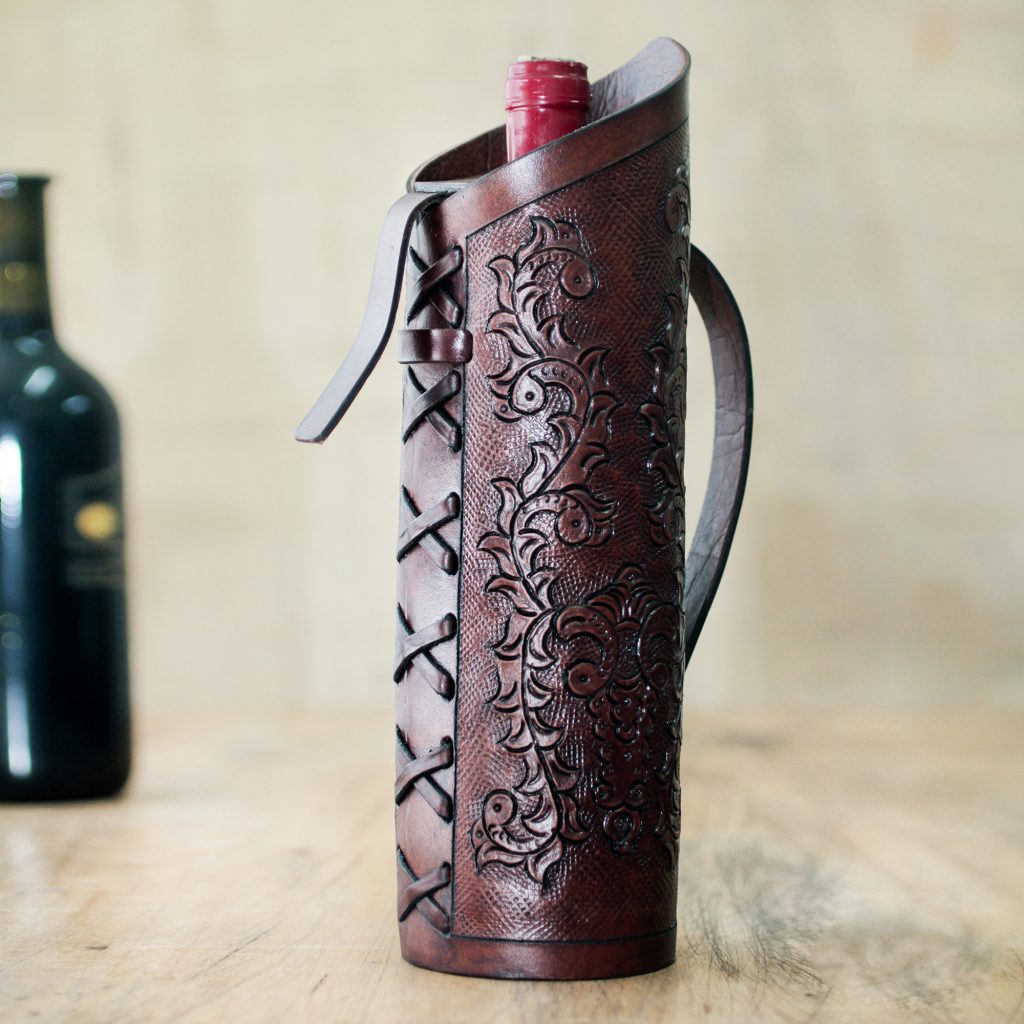 This beautiful and ornate leather wine bottle case would be a wonderful gift for a hostess or as party favors.  It is best to give this gift with an unopened bottle of wine in it. It's perfect for wine connoisseurs, or just people who enjoy wine. This would be great for any party attended by adults, but especially a wine tasting party. Wine tasting parties are so elegant with trays of fancy cheeses and fruit so this could be a type of party you might consider throwing if you've never done so. This particular leather wine case was made in Peru by the craftsman, Abel Rios.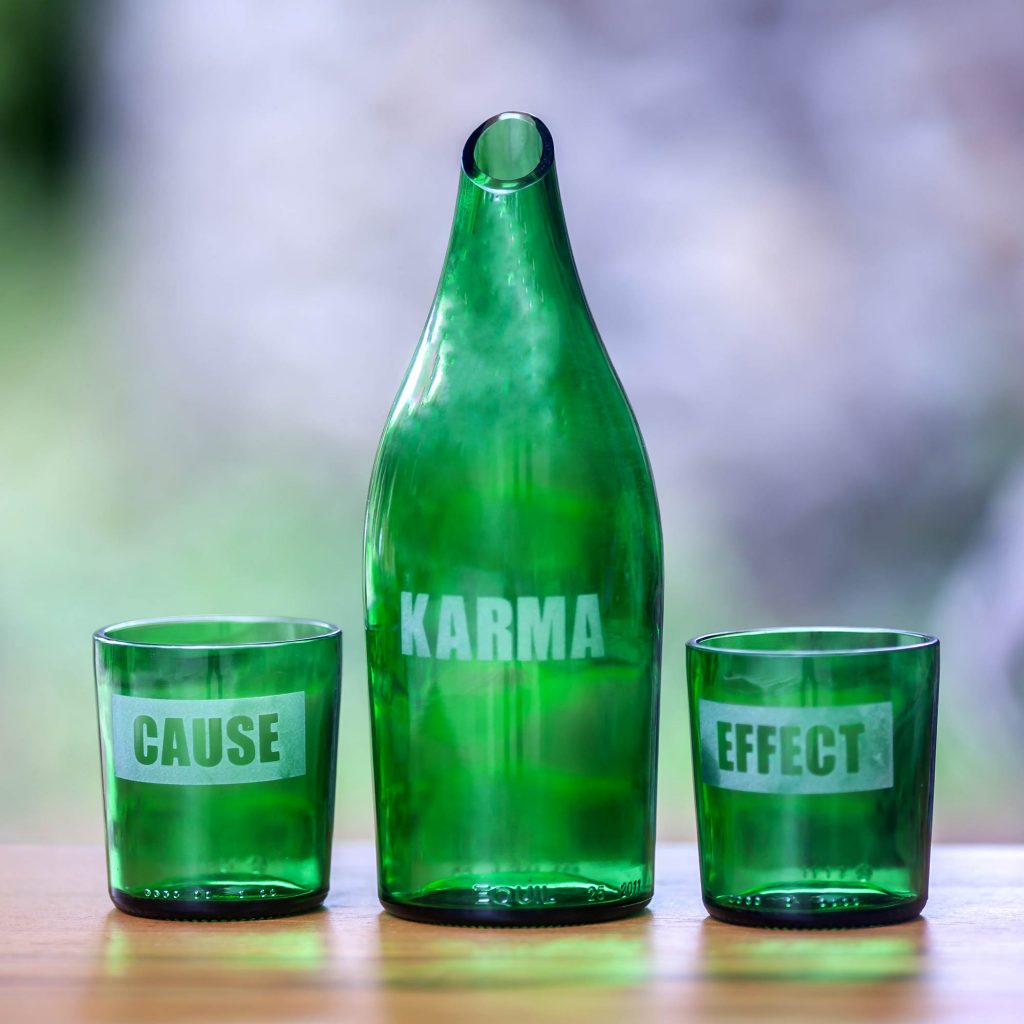 This carafe and glasses set is the result of job opportunities created in communities near the beaches of Bali where discarded glass is collected and recycled to make new works of art. Therefore, the carafe being labeled with the word "karma" is fitting, because those who purchase this set will be doing a good thing for people and the environment, as well as receiving a beautiful carafe set. In addition, the glass labeled with "cause" is befitting of the purchase, and the glass labeled "effect" represents the creation of jobs and the preservation of the environment and wildlife. A hostess could give this set to her guests and explain the good works that are done not only with the purchase but by the talented glass artist, Peduli Bali of Indonesia. Both hostess and guest can feel good about supporting artisans.
No matter what type of party you are throwing or attending, there are several options to choose from for hostess gifts from the UNICEF Market. We invite you to come explore and find something special for your next gathering.