The holiday season is upon us once again. One important element of the holiday season is holiday décor in the home. Decorating one's home for the holidays helps to set the right festive mood. Moreover, it is part of the fun of this time of year. For many, it is an important tradition. Below are some helpful hints to get your home ready for the holidays.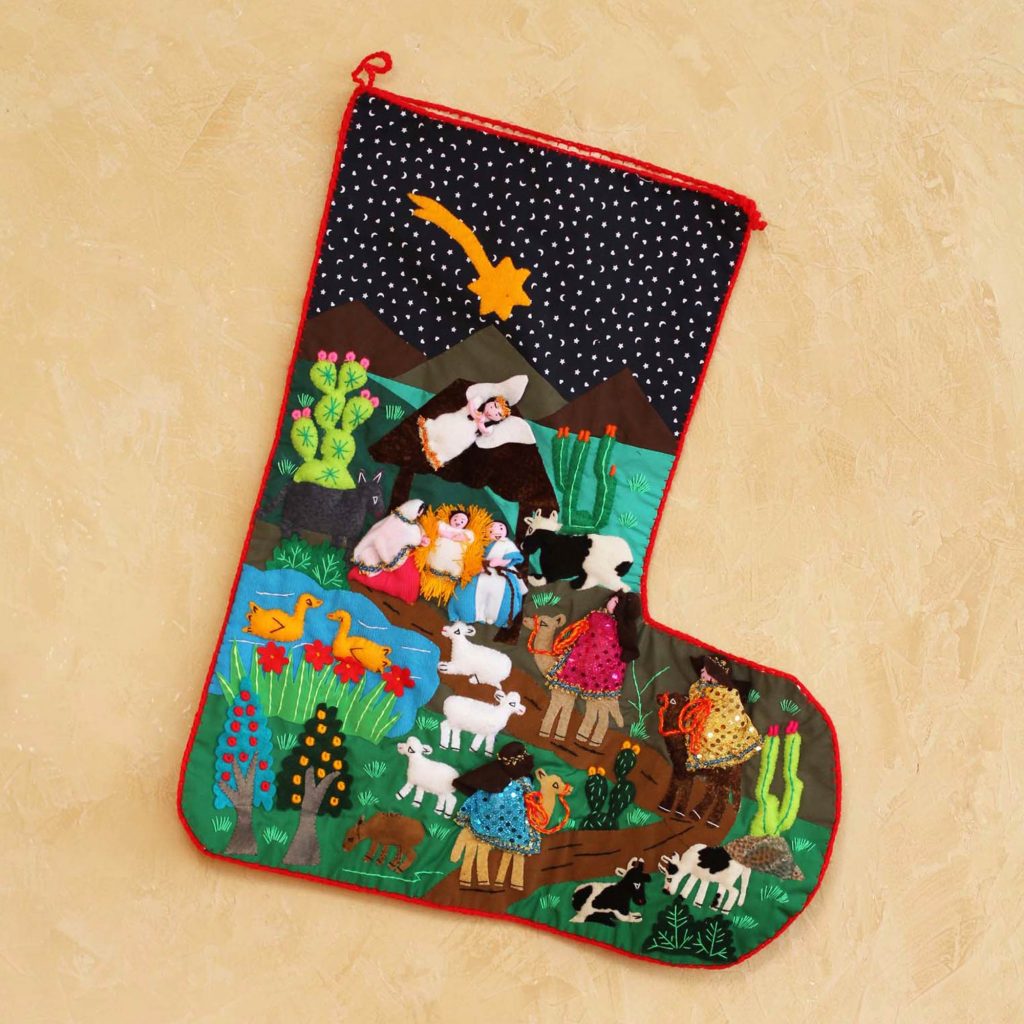 For many, hanging stockings above the fireplace, along the stair banister, or on the wall, is an important holiday tradition. This ornate applique Christmas stocking featuring the Magi traveling toward the manger where Jesus has just been born, guided by the Christmas star, will remind viewers of the reason for the season.
The Peruvian artisan, Leonor Quispe, uses a traditional patchwork technique, also known as arpillería, to craft this exceptional stocking by hand. Arpillería has a rich history. The brightly colored patchwork has served as folk art, a message of protest under times of oppression, and as a historical record.
This purchase from UNICEF can provide 24 packets of lifesaving nourishment to children suffering from acute malnutrition.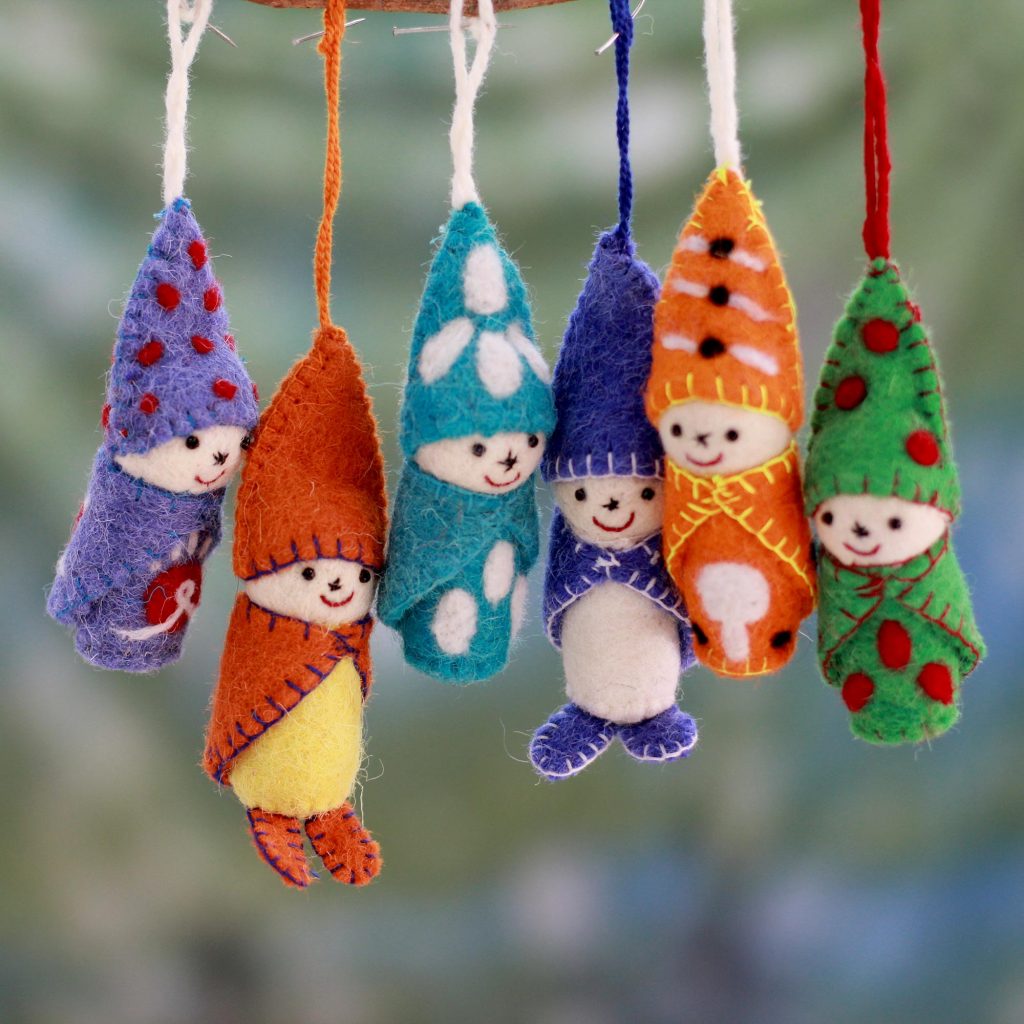 These adorable non-breakable snow baby holiday ornaments would be a fun addition to any holiday décor collection. A set of six, they can be hung on a tree or wreath, and also hung on a wall, chandelier, lampshade, or used to adorn a gift. These soft, plush ornaments will add a splash of color to your celebration. Each ornament is crafted by hand by the artist, Rajesh Gehlot of India.
This purchase can provide 70 sachets of oral rehydration salts, which can help children combat dehydration and diarrhea.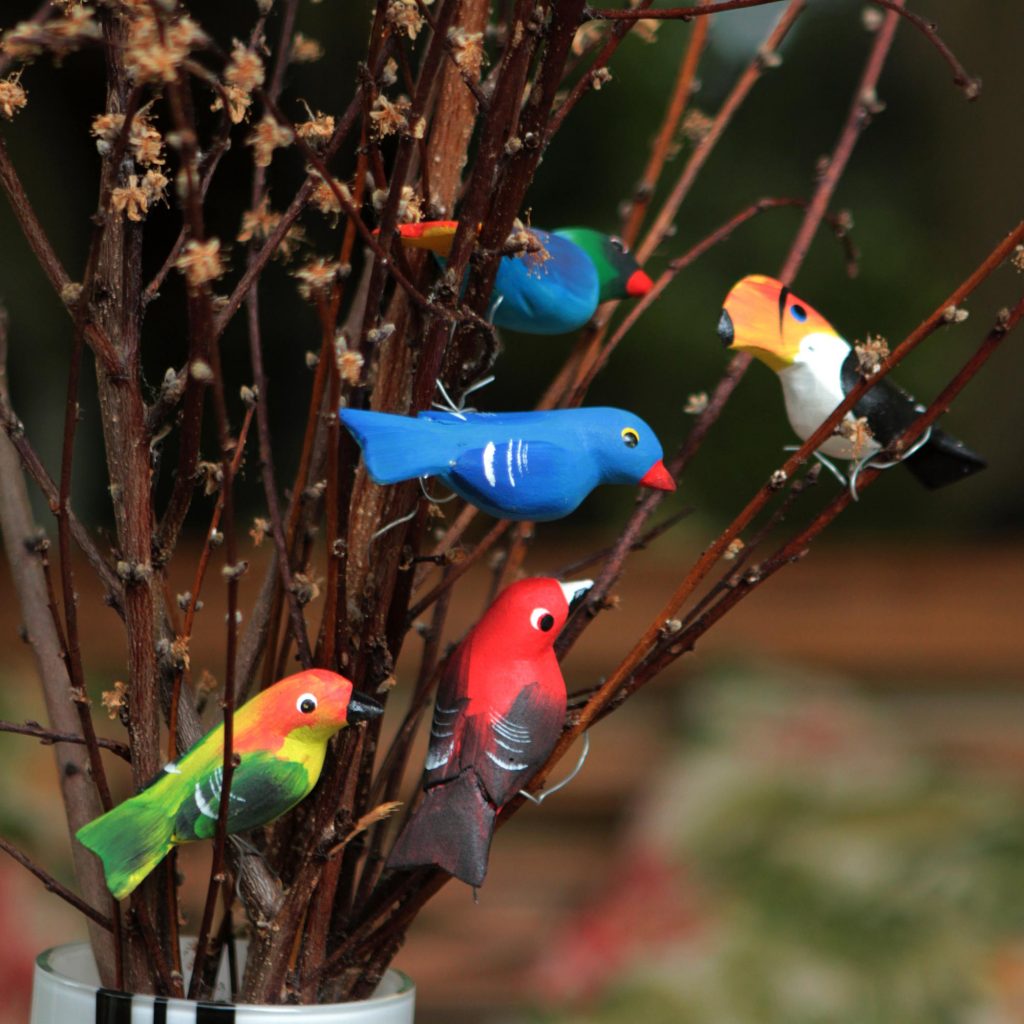 This unique set of 5 Brazilian bird ornaments can be placed on an indoor plant or outside in the hedges next to the front door. These fun ornaments could also be strategically added to a holiday wreath to give it a little something extra. These ornaments do not have the traditional hanging string and instead feature flexible wire legs to stand them up in a planter or wrap them around branches to secure them in place. They can be used in a Christmas tree, but have other options for decorative placement. This makes them a bit more versatile than ornaments with the traditional hanging string. These ornaments are even more special because the Brazilian artisan Raul Vinelli carved each by hand.
This purchase can provide enough polio vaccine to vaccinate 49 children against polio.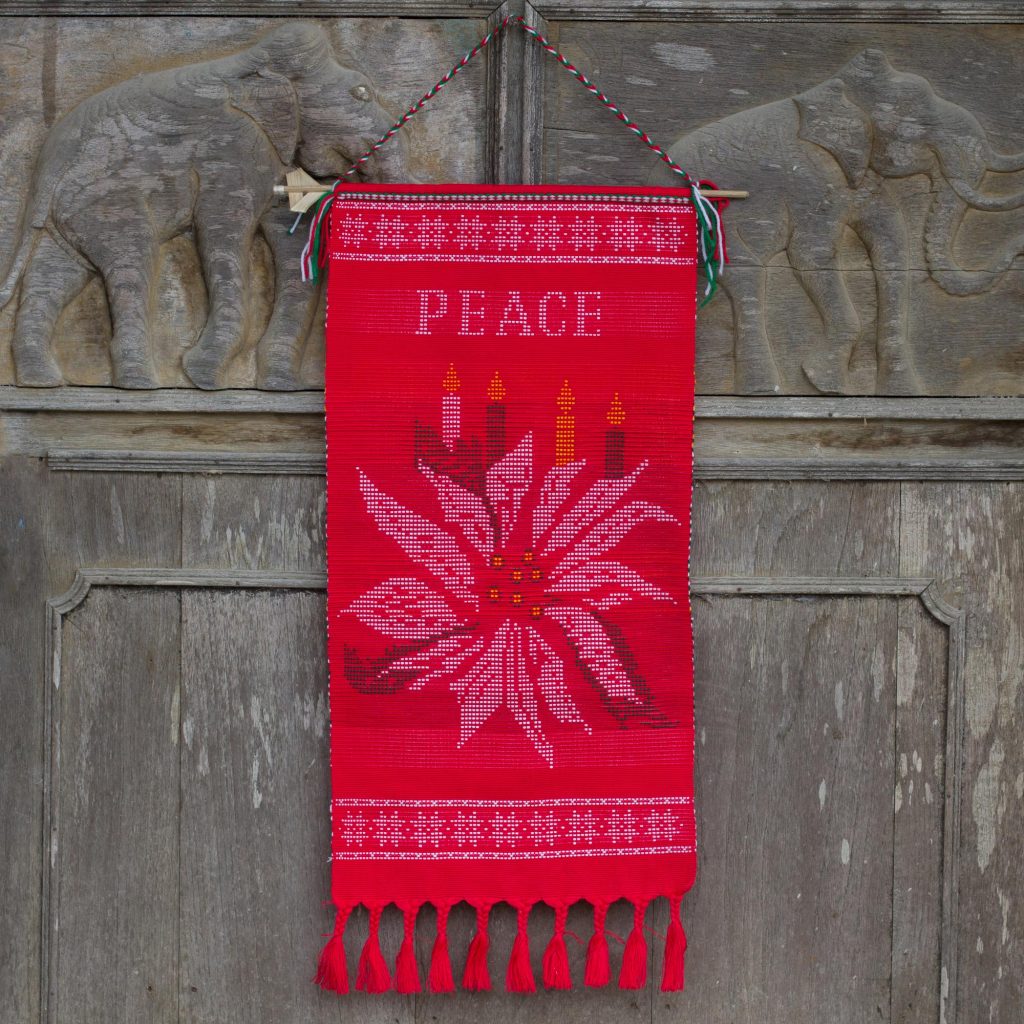 If you are looking for a decoration with a message everyone can appreciate, this Hill Tribe red cotton Christmas peace-themed wall hanging will do the trick. The brilliant red cotton backdrop of the wall hanging is woven by hand by Lahu Hill Tribe artisans from Thailand (Thai Tribal Crafts,) with hand-stitched embellishments.  The Lahu Hill Tribe are one of six main groups categorized as hill tribes in Thailand.
This purchase can provide 64 sachets of oral rehydration salts, which can help children combat dehydration and diarrhea.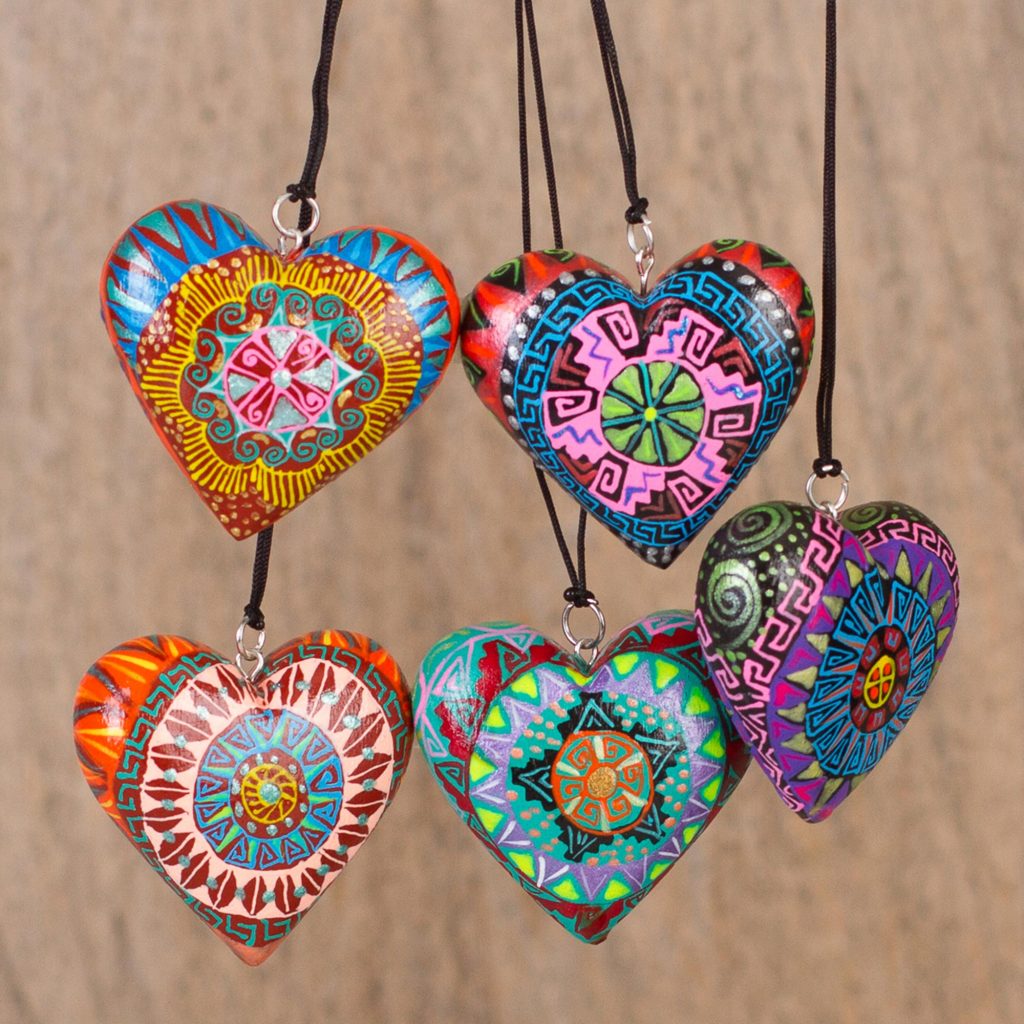 Artisan Claudio Ojeda from Mexico uses the traditional Guanajuato alebrije style of sculpture to create this set of five heart Mexican Copal Wood ornaments by hand. Alebrije is a style of bright and colorful Mexican folk art started by the artisan, Pedro Linares in the 1930's. Linares came up with his unique style of colorful art in a dream state when he was extremely ill. For these heart ornaments, Ojeda paints each ornament with intricate colorful designs by hand, which gives them a unique and beautiful quality.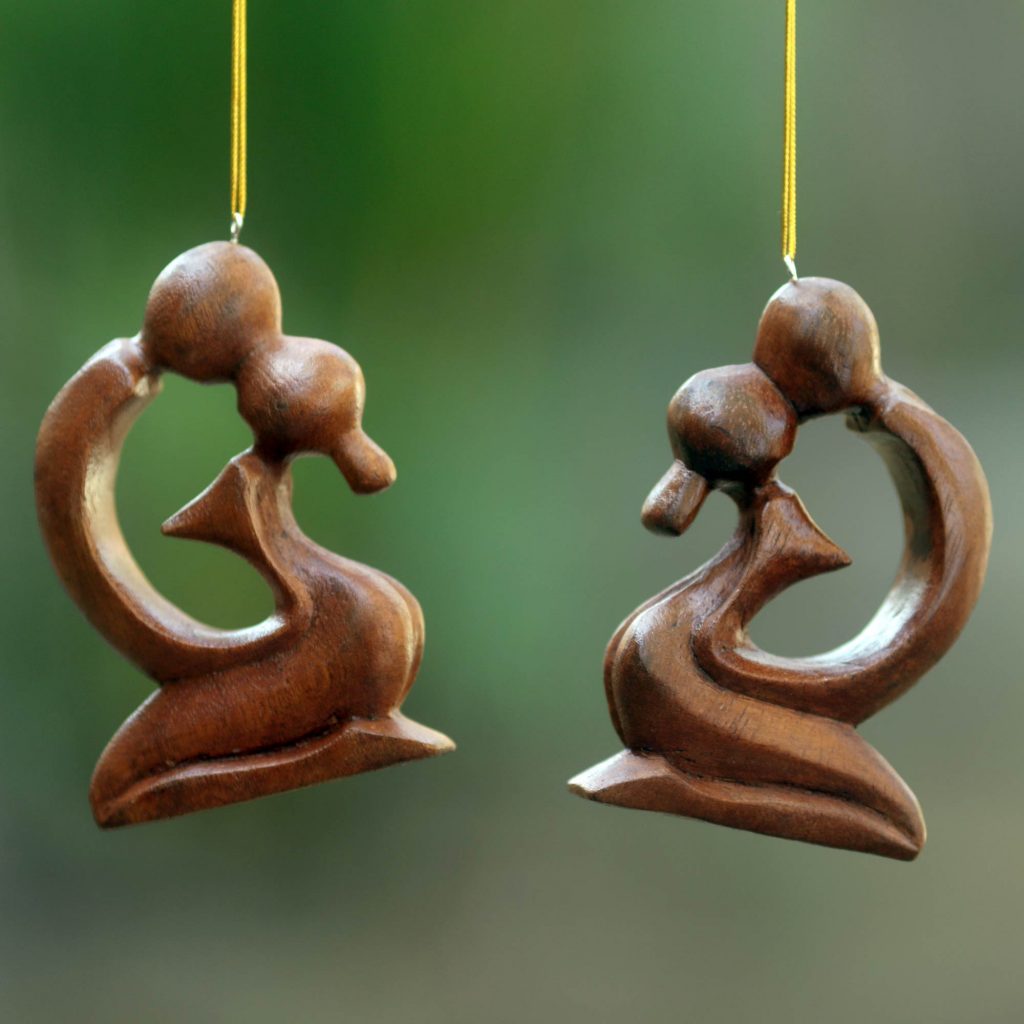 For some, the holidays are a romantic time. Couples cuddle by the fire and give each other gifts as a token of their love for one another. For the lovers among us, this pair of romantic hand-carved suar wood ornaments featuring a couple kissing would be a wonderful way to express the love shared within the home. The suar wood tree, also known as Albizia Saman, is commonly recognized by its umbrella-like canopy. The height of this tropical rain tree can reach 25 meters. The creator of these star-crossed lovers, Indonesian artist Eka, lost her beloved husband in 2009 from a prolonged illness. She honors his memory with the carvings she creates. It isn't any wonder many of her creations feature a romantic love theme.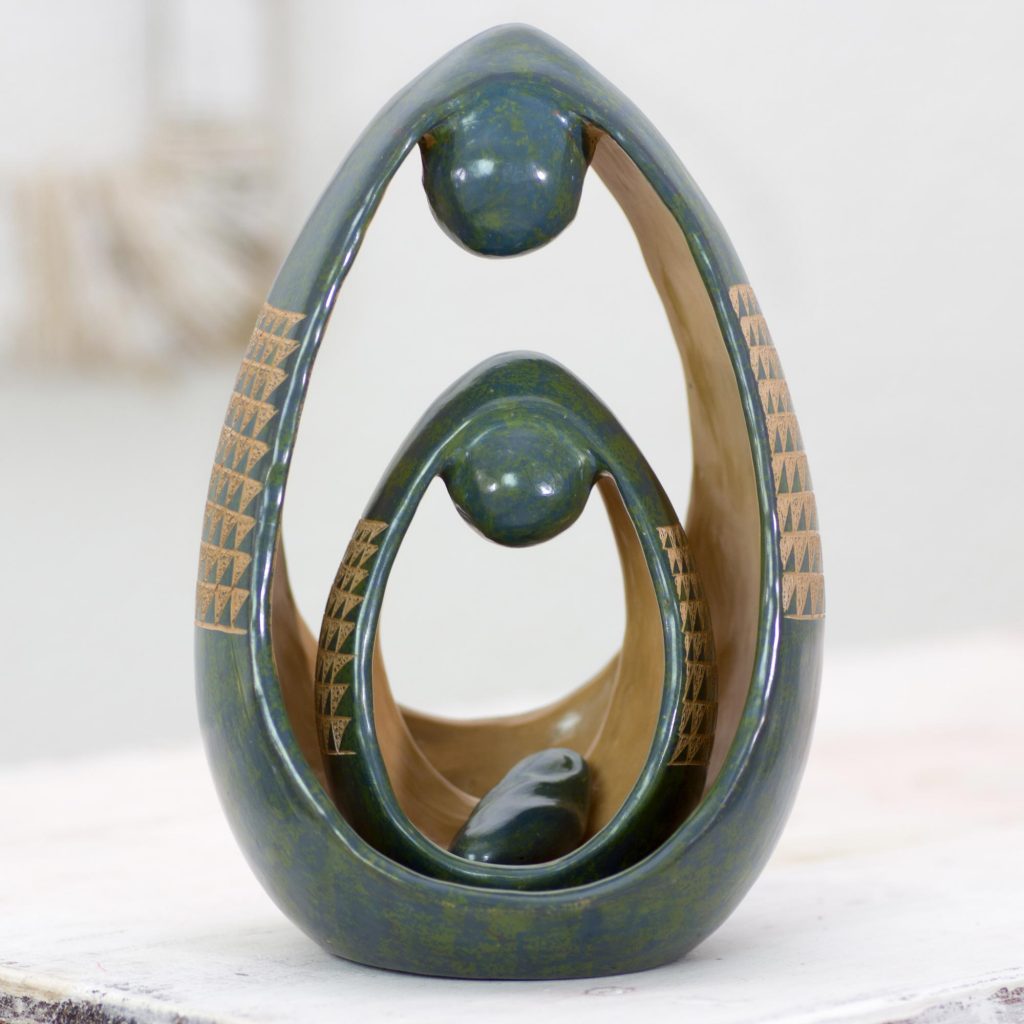 This modern nativity scene ceramic sculpture is a unique spin on the depiction of the birth of Jesus. The three ceramic statues can be arranged together, as shown, or separately. The largest of the three sculptures is a depiction of Joseph cradling the middle size sculpture representing Mary, and the smallest sculpture represents Jesus as a newborn. The sculptor Jacobo Potosme from Nicaragua uses pulverizing stones to obtain the rich shades of green and blue incorporated into the stunning visual of this work of art. He finishes the effect by etching patterns on the outside of each piece, revealing the natural color of the clay.
This purchase can provide 66 doses of measles vaccine to protect children from this deadly disease.
UNICEF Market has many holiday décor items to make your home festive and bright for this cherished season. The holidays are a time for giving, so any purchases made not only help individual artists support themselves and their families, but a portion of the proceeds go toward providing children in need with nourishment and life-saving vaccines.