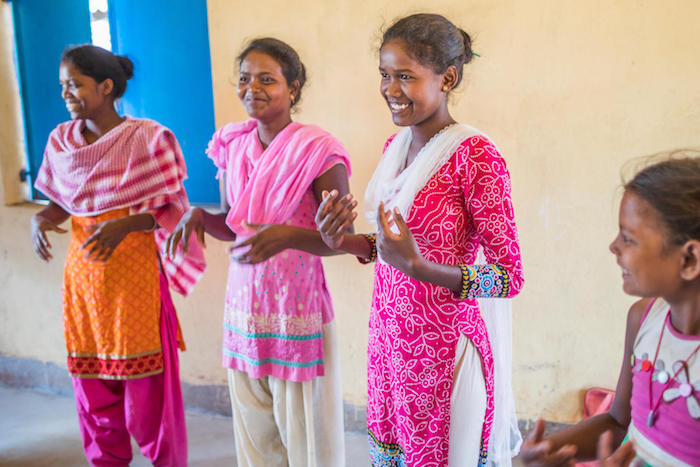 A quality high-school education can transform a girl's future, yet around the world, many adolescent girls miss school or even drop out altogether for one simple reason: menstruation.
Schools often lack the supplies and sanitation facilities girls need for managing their periods. Girls without adequate health care may feel discomfort or pain. Feelings of shame, stigma and misinformation may also make girls feel unwelcome at school when they have their periods — especially in areas where teaching healthy attitudes about menstruation aren't part of the curriculum. For girls growing up in refugee camps and conflict areas, the challenges are even greater. 
Today, one of the important ways UNICEF supports girls is by providing sanitation and hygiene facilities and encouraging community support for girls' right to stay in school and feel good about their bodies and themselves.
Around the world, UNICEF is working to keep girls in school by:
Funding gender-segregated sanitation facilities in schools in 75 countries so girls can wash up privately and dispose of sanitary napkins effectively and discreetly.
Working with governments to develop classroom materials to help prepare younger girls for they day they get their periods, while dispelling dangerous misconceptions and harmful stigmas.
Sponsorship of mobile messaging apps and social media campaigns in 61 countries to help girls manage menstruation.
Would you like to help girls feel good enough about themselves and their changing bodies to stay in school?
For just $35, you can send a Girls Empowerment Pack with enough menstrual pads to give five girls the protection and peace of mind they need to pursue their education and dreams for a better future.
The Girls Empowerment Pack is just one of many UNICEF Inspired Gifts you can send in the name of a loved one. Everyone, from that friend who has everything to your sister who says she doesn't need anything, will be truly touched by these gifts that make a big difference to children in need.
From lifesaving therapeutic food to insect nets that can protect an entire family from disease carrying mosquitos, UNICEF Inspired Gifts truly are gifts that give back.
Top Photo: Adolescent girls in India's Jharkhand State take part in a UNICEF-initiated activity where they share information and attitudes about menstruation. © UNICEF/UN0214937/Vishwanathan