This holiday season, we encourage you to give back to the teachers who've inspired you—whether in the past or recent present—with a handmade Christmas gift for teachers from UNICEF Market.
For those who taught you to broaden your horizons, take this opportunity to make their world a little bigger and brighter with an ethical Christmas gift that can have an impact and help children across the globe.
An Educational Christmas Gift for the Teacher who Never Stops Learning:
Give the gift of math in a box. For an English teacher, that might sound like torture, but don't worry—it's not really for them. UNICEF Market's "Math in a Box" kit is part our Inspired Gifts collection, a unique assortment of gifts that allow you to donate life-saving supplies in the name of someone you love.
Educational materials are perfect for this category because, for children in war-torn countries, access to regular is often only a dream. A portable education kit allows teachers to continue providing education anywhere, so children never have to stop learning.
Cute Christmas Gift for the Teacher who Never Stops Working:
No matter what their field of study is, every teacher can relate to this image. Hunched over a textbook, this professor figurine, made from recycled bicycle and car parts, is a fun, eco-friendly way to say thank you to the teachers who've made in a difference in your or your child's life.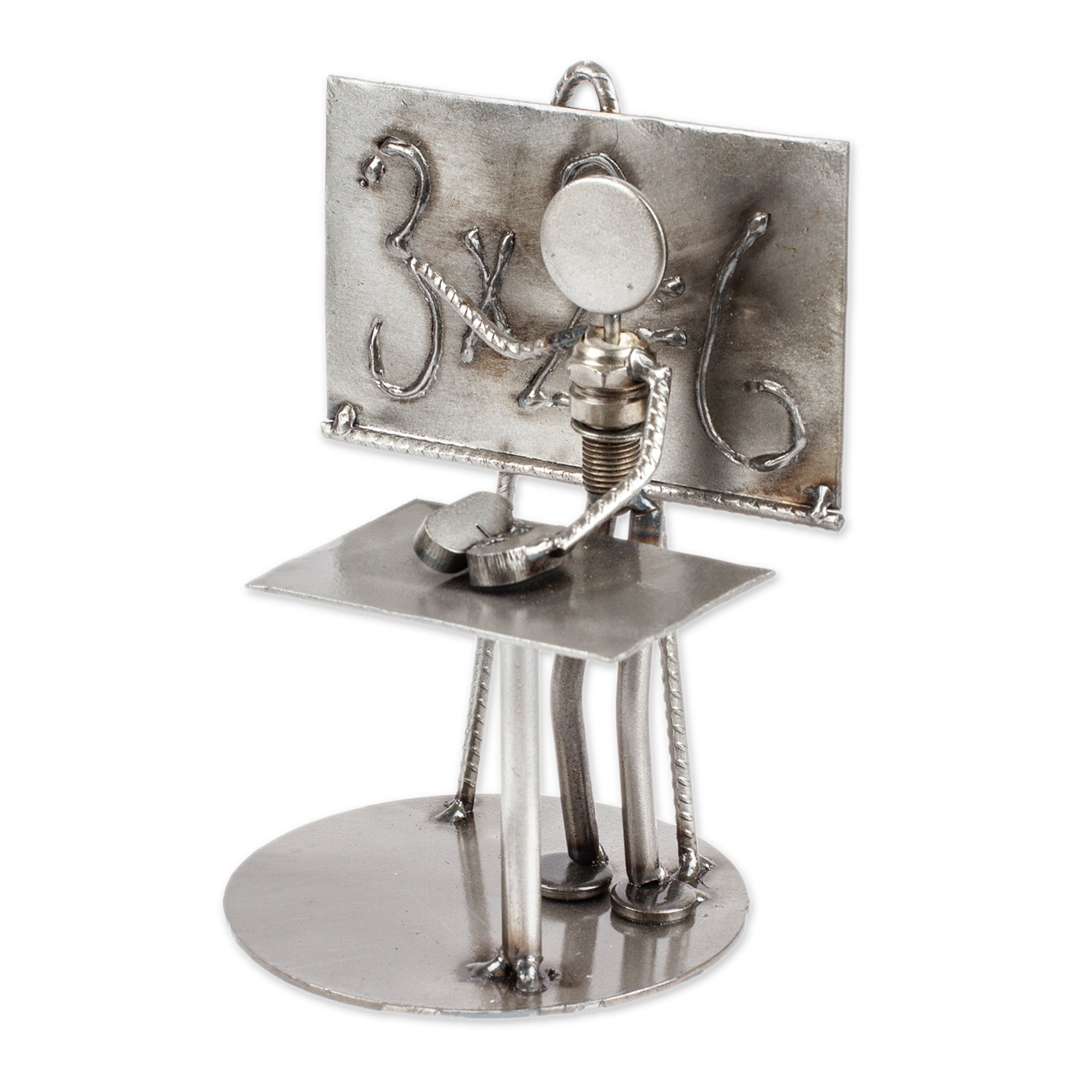 Collectible Recycled Car Parts and Metal Sculpture Rustic, $28.49
Useful & Handmade Christmas Gift for the Teacher who Never Stops Writing:
Your favorite English teacher or former professors whose words of wisdom you cherish will appreciate this handmade leather journal from India. Embossed with an image of the tree of life by artist Annapurna, this journal can actually help preserve the lives of children UNICEF helps around the world.  Proceeds from the purchase price are enough to provide measles vaccines for 16 children in need.
Embossed 100-Page Unlined Leather Journal, $29.99
Artsy Christmas Gift for the Teacher who Never Stops Caring
These cards are the perfect way to let a  cherished teacher know you care. Featuring the classic UNICEF image of happy children holding hands, these cards will remind your teacher of their love for education and all the children they've taught through the years.
UNICEF Everyday Notecards – Boxed Set of 12, $12.00
And Finally, For the Teacher who Never Stops Growing:
If you had a teacher who pushed you to never settle for being "okay," who drove you to strive for your best, and encouraged you to think with an open mind, meet their perfect gift. Rendered in vivid red, yellow, white, green, and black, this abstract African painting is entitled "Broad Mind," and your Art History teacher could pore over it for hours. (But anyone else would enjoy it as well!) Rich in both color and symbolism, West African artist Noah Boachie offers a hint of insight into what it means.
"Changing environments help us learn much about life, but only mature people can discern good from bad," he writes of his own work. "Having a broad mind can help you to discern these too. The predominance of red in this painting represents passion."
The rest of its meaning, however, is up to you to decipher. However, Boachie also adds that he has one ultimate message for all recipients of his work: "Always encourage people with your positive thinking." In addition to the mental and intellectual boost, the proceeds from his work can also provide 217 sachets of oral rehydration salts to help severely dehydrated and malnourished children combat dehydration and diarrhea.