Selecting the perfect painting for your home can be a daunting task.  There are almost an overwhelming amount of options, it can be hard to know where to begin. This is where I come in.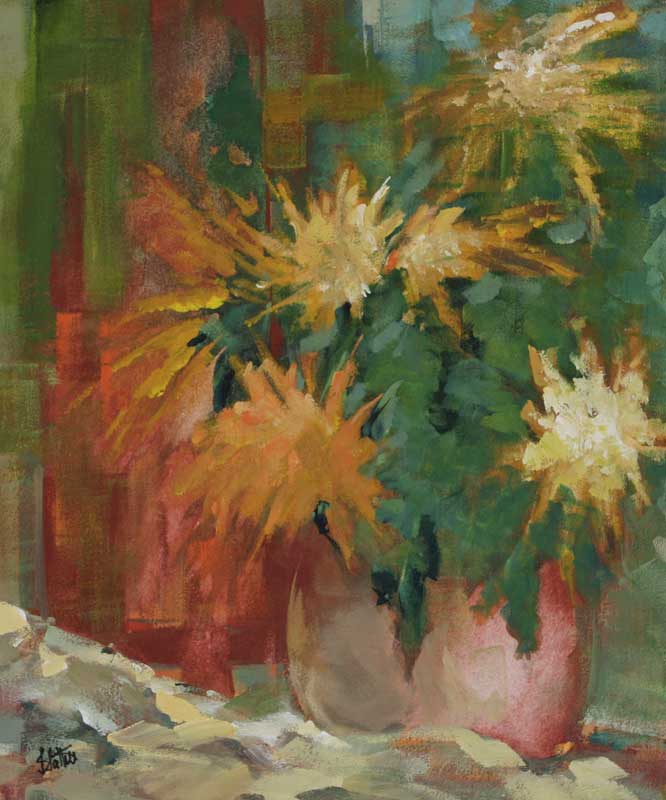 Julieta Sathler, "Vase of Flowers"  19.75″ W x 23.5″ H x 1.6″ D
I am an Art Consultant by trade. It is my profession to assist people like you in the discovery and selection of artwork that they will cherish forever. Unfortunately, there is no easy, one-size-fits-all way to choose artwork. One's taste in art is completely subjective, which means what's right for you and your home, may not resonate with your neighbor. I will, however, share with you some tips that will guide you through the process of choosing the perfect paintings for YOU and your home.
Determine Style
Typically when I am working with a client for the first time, I make sure that I engage them in a conversation that allows me to better understand their tastes. Most often, I find that my clients are either inclined in a more traditional or contemporary direction.
Prince Asher, "Mutual Role"  52″ W x 59″ H
This can be a very helpful starting point for me as I can easily rule out paintings that are created in a certain style. You are already one step ahead, as you probably have some idea of what you like and do not like.
If you are like me and have very eclectic taste, don't fret, many people do. In this case, you will be able to rely on mood and feeling rather than aesthetic alone to determine what will be best for you.
Determine Mood
Artwork can be very effective in eliciting feelings, emotions and, of course, establishing the mood for your home. Ask yourself, what is the mood that you would like to create within your space? Perhaps something fun, and energizing, or something more calming and subdued?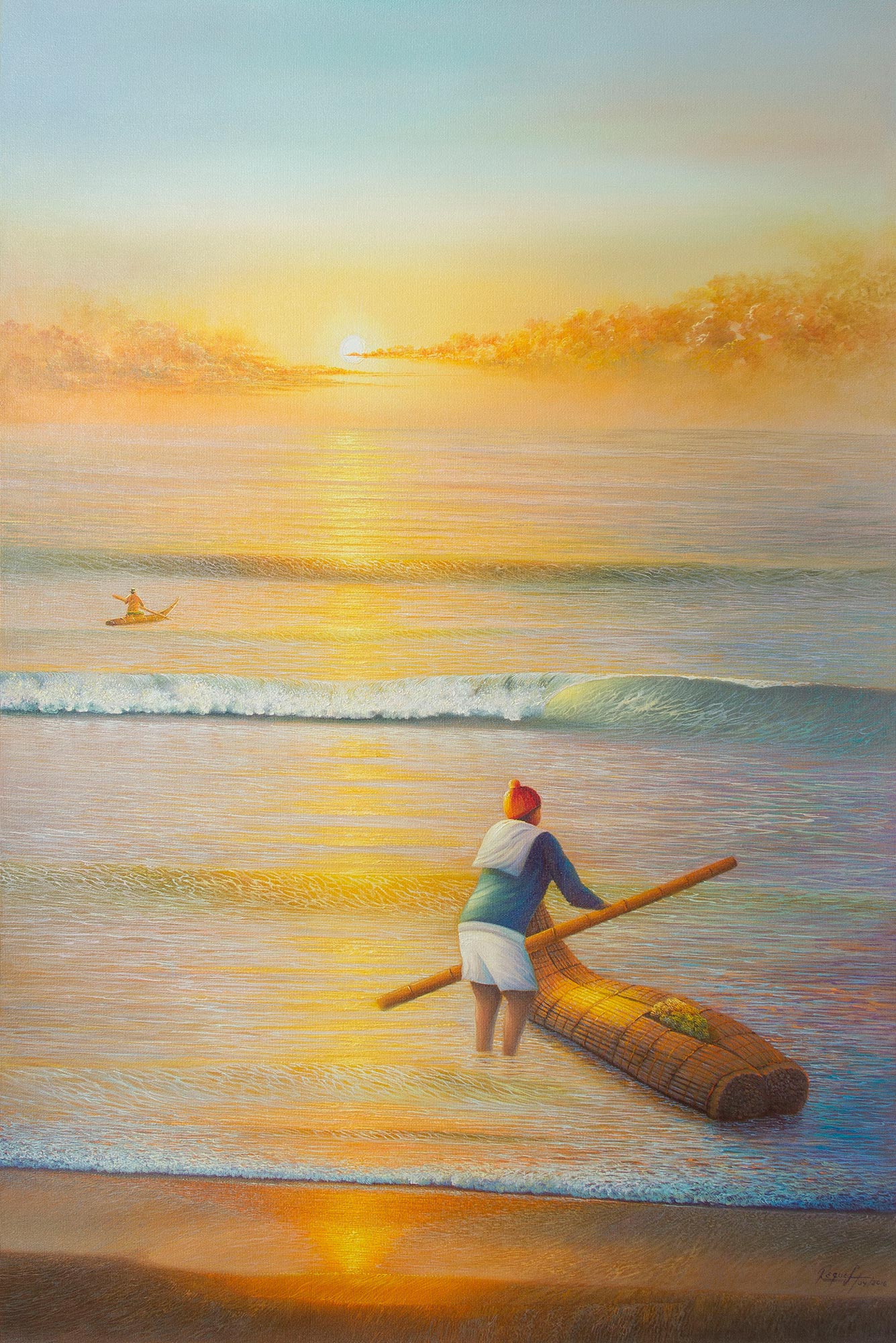 Teodoro Reque Liza, "Sunset Poem"  32.5″ W x 48″ H
A painting's subject matter and even colors will certainly influence the mood that is evoked. As you consider your options, really open yourself up. Pay attention to how you FEEL when viewing the paintings. Maybe the dynamism and bright colors of a composition give you that invigorating feel that you were hoping to create in your home. Perhaps the soothing quality of a seascape will reflect the feeling that you've been trying to create in your bedroom.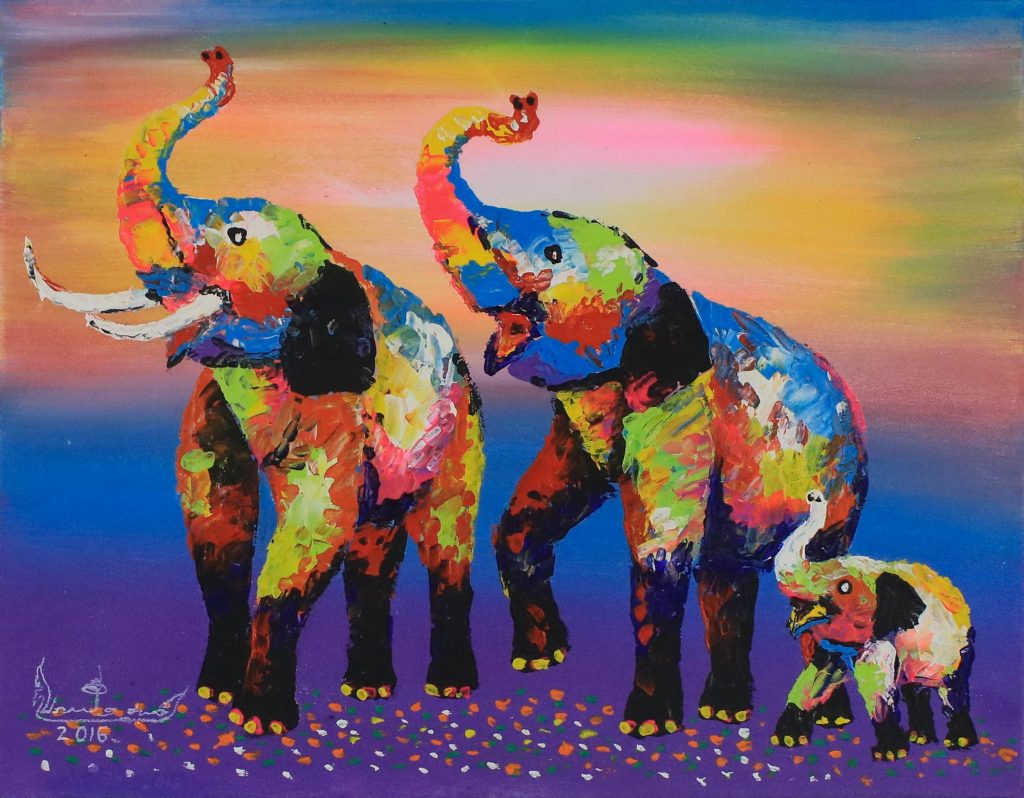 Prayard Tandee, "Family Colorful"  17.75″ W x 13.75″ H x 1.4″ D
I tend to gravitate toward artwork that is reminiscent of memories, experiences or feelings that I hold fondly in my heart. One of my favorite paintings on my wall is a pond in the winter. It reminds me of growing up in New England and the days my father used to take my brother, sister and I fishing at this little pond down the street. We never caught anything, not once, (there probably weren't even fish in it,) but those special days spent as a family will always bring me a sense of joy and nostalgia. Seeing a reflection of these sentiments on my wall truly brings a smile to my face each day.
Placement
Many people have placement in mind when purchasing a painting. Consider the dimensions of the wall and make sure that those of the painting will fit. The shape of the painting can also be important. If you have a long wall, you may want a painting of landscape (horizontal) orientation. On the contrary, if you have very high ceilings, you may wish to consider paintings of portrait (vertical) orientation.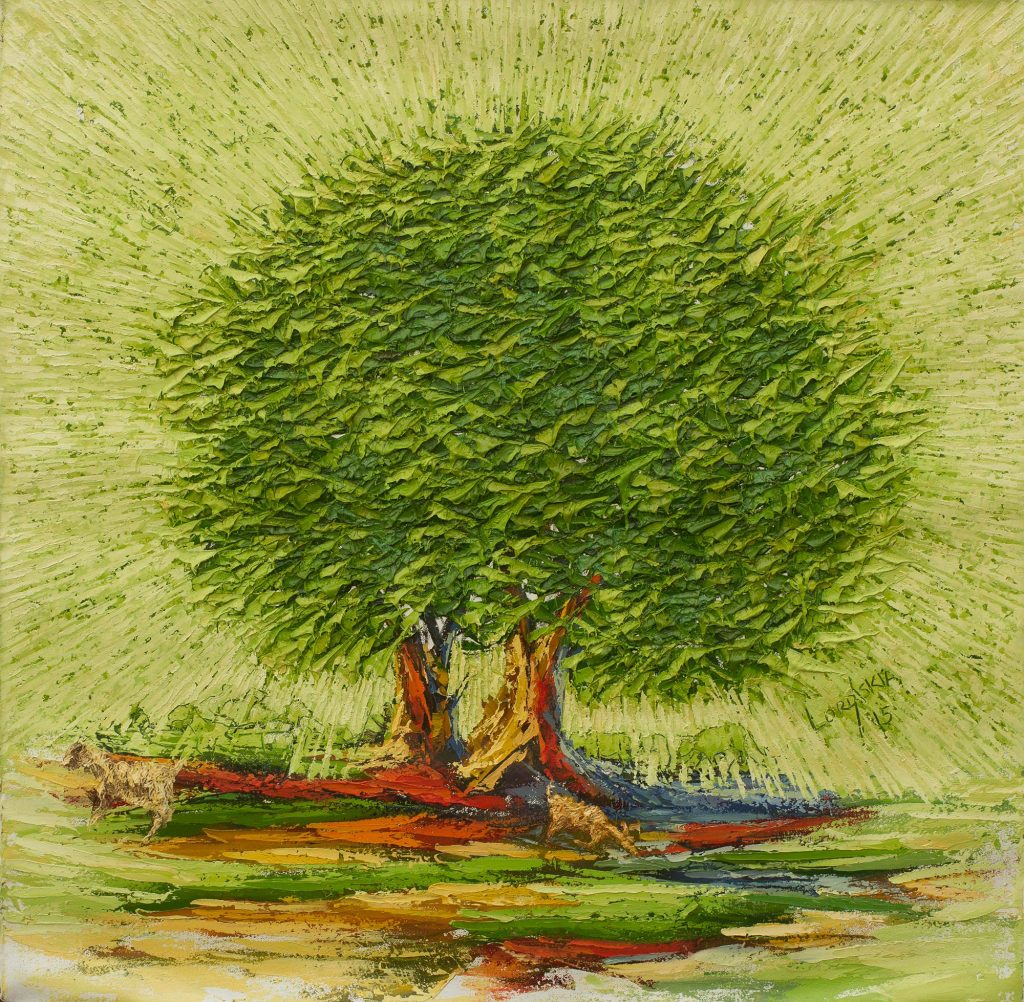 Agyarko Kotoko, "Greener Pasture"  30″ W x 30″ H
I personally prefer the impact of paintings when they take up the majority of the wall space. However, again, it all boils down to your taste. I have plenty of clients that place smaller paintings on larger walls. Either way, you're going to want to make sure your wall can at least accommodate the painting. I will argue, however, that space can always be made for the painting that you love.
BUY IT BECAUSE YOU LOVE IT!
If I could only give you one tip for selecting the perfect painting for your home, this would be it. It is the single most important truth that I stress to my clients. Purchasing artwork is a commitment in a way. It is something that you will live with, enjoy forever, and will likely pass down as an heirloom.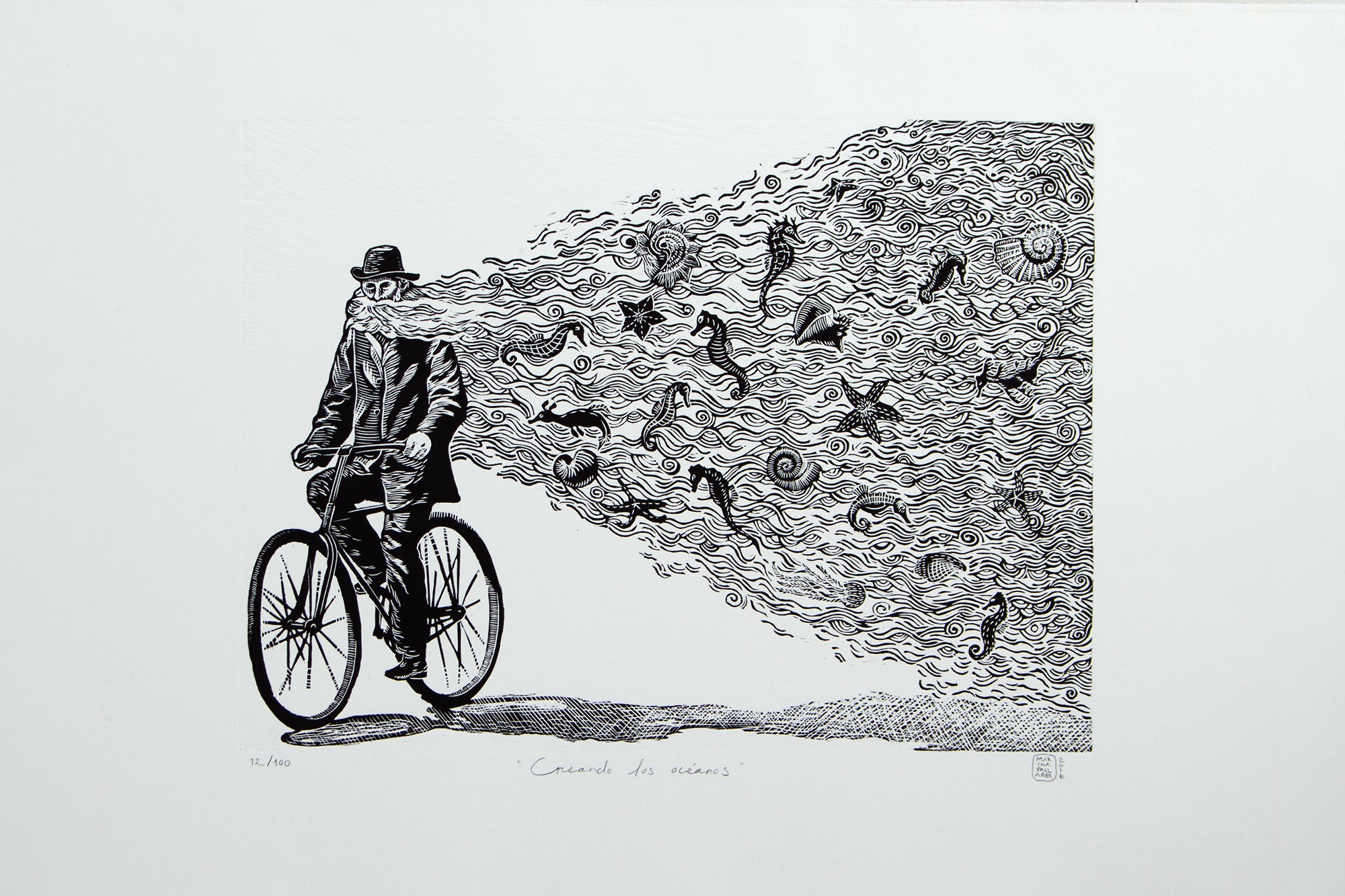 Marina Pallares, "Creating the Oceans"  24″ W x 16″ H
While you may move homes, or your décor may change, I can assure you that you will never tire of a piece of art that evokes a connection or emotional response.
Remember, what elicits that special, visceral response will be different for everyone. You may wish to involve your spouse, roommate, etc. when making this decision. After all, they will be living with it too.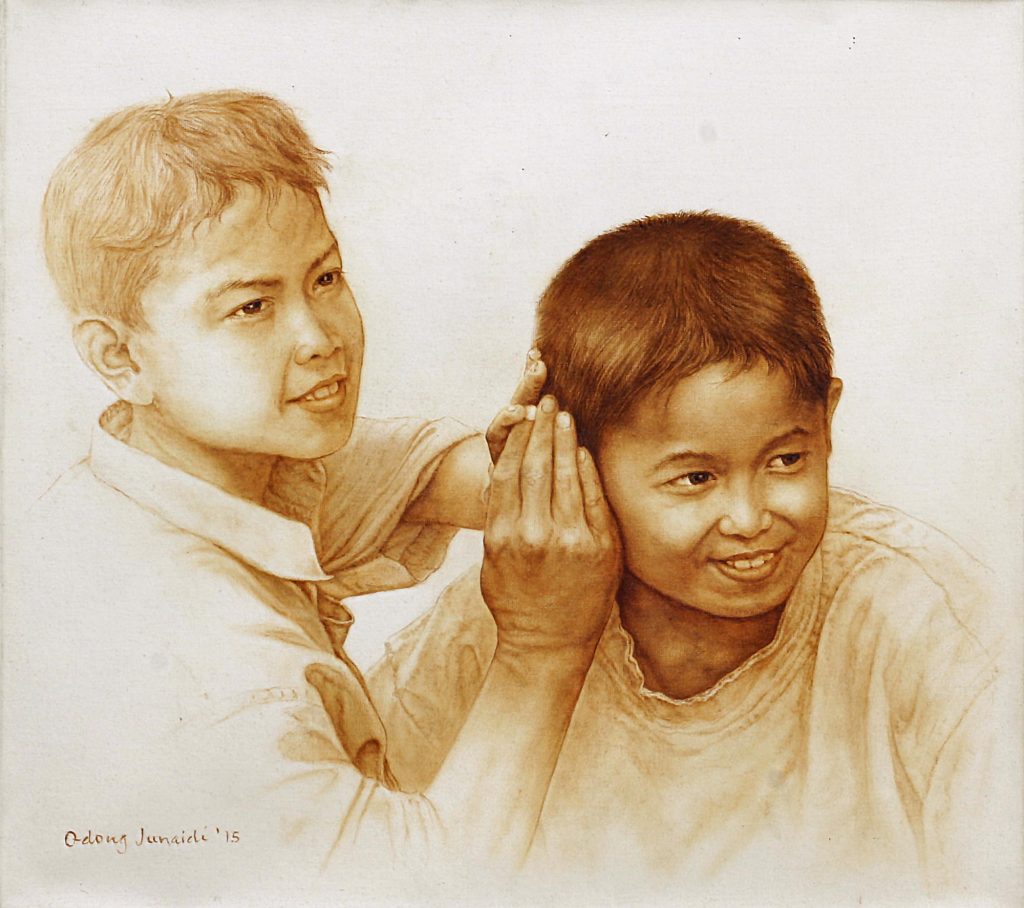 Odong Junaidi, "Filter" 19.75″ W x 17.75″ H
Pablo Picasso once said, "Art washes away from the soul the dust of everyday life." In my profession and as a collector of art, I find that it has transformed my life. Art has the ability to enrich our lives in so many ways, and when you buy from UNICEF you can enrich the lives of others. As you enjoy the new artwork that hangs on your wall, you can feel good knowing that you have directly helped children in need to live better lives.