A group of women has come together with the hope of building a better life and a better future for their families in western Mexico. they are strengthened through hardship and are prevailing after heartache.
After losing their husbands either to the drug cartel, unexpected vanishing or a killing, these women are now starting over in a little factory making dried fruit. Last year, the Mexican government built the factory for the women and provided them with a foundation: marketing and programming materials, accounting courses, and training on how to dry the fruit for sale.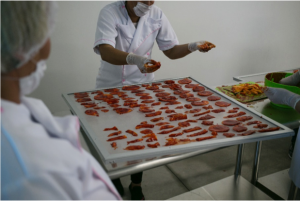 Photo Credit: http://bzfd.it/1tswpCB
Since then, even with the fear of their husband's aggressors constantly looming, upwards of 40 women ranging in age from their twenties to fifties, gather into the factory weekly to fight for the future of them and their families. The workers hope that the factory can someday turn into a viable business—as they've had a rough start to date.
However, while the factory is still waiting to gain its momentum and turn into something profitable for its workers—it's already delivered a reward that can't be measured monetarily: a community. Many of the women are single and/or widows and shunned from society… the factory has given them a place they feel they have equals and friends.
While there' still a long journey ahead for these women and for the factory to become something fruitful money-wise instead of just in its product the women stay hoping for the best and investing in the project with both their time and their money holding on to the little bit of hope that the factory and their dreams will become a reality.