Ratu and Devi
"We want our designs to work for any occasion. Our apparel is bold, experimental, classy and timeless."
"We are Ratu and Devi, best friends who have worked together since 2011. We are from different cultures — Ratu was born
...
in Java and Devi in Sumatra. We met in Bali when Devi was a client of a fashion magazine where I worked," Ratu says.

"Since we share a passion for fashion, we decided to create something together. Living far away from our families made us bond like sisters, as we stick together and support each other. We might not share the same blood but we are share the same kind-heartedness.

"We are single women who love animals. We like to feed stray dogs on the beach. I have two dogs and a cat while Devi has a dog and three birds. Since we live next door to each other, our pets get along and have taught us to live in peace and harmony.

"Our motto is that we'll do the best we can with this life, and to be of use to the world, as this is our way of achieving happiness and satisfaction.

"Living in Bali is an amazing experience. Its diverse culture and rich arts and crafts traditions make this island a beautiful and unique environment. We enjoy the authenticity, freedom and a community that accepts you as an individual. It's a place that subtly but instantly became our home.

"We love to smile, laugh and make others happy. It feels like a flower that blooms in our stomach. Like Marilyn Monroe said, 'Keep smiling, because life is a beautiful thing and there's so much to smile about.'

"Life has its ups and downs and, while we cannot change the bad things that happen, we can change the sadness people have within due to their past."

The saddest moment for Ratu was when her beloved parents passed away.

"My parents taught me everything to be a strong woman except how to live without them," she says. "Devi cheers me up when I reflect on my parents. She tells me, 'Pray for your mom and, may they rest in peace' and then says her parents are also mine. This comfort always calms me down in time of need.

"We both love to ride around on a motor scooter to find a hidden beach or a waterfall.

"Expression is so important to us and we enjoy singing along the way. Or when we hear music from somewhere, we sometimes dance like nobody is watching. We don't care if someone is observing us but sometimes I can tell from their eyes, they probably think we are crazy girls!

"Occasionally, we argue when I drive the motorbike and Devi is the passenger. Most of the time, she gives wrong directions, even though she uses a GPS. It is always fun when we get together on our crazy crusades!

"We work together on our designs. Our fashion inspiration comes from Bali's landscapes. Most of our designs have asymmetrical patterns. We want to design trendy, stylish and comfortable apparel that transcends for shoppers across all aspects of their evolving lifestyle.

"We want our designs to work for any occasion. Our apparel is bold, experimental, classy and timeless. Our hallmark details can appear in sleeves, necklines, hemlines, layers, gathers, shoulders, slits, wraps, prints and embroidery. While our fabric heritage is based in Lycra, spandex, rayon and voile, our designs are made with joy and love."
Strawberry Bouquet
Floral Rayon Empire Waist Short...
Bloom Cascade
White and Light Blue Floral Print on Red...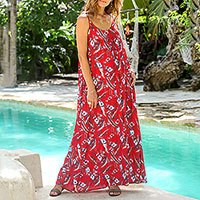 Strawberry Bouquet
Floral Rayon Sundress in Strawberry...
Strawberry Bouquet
Floral Rayon Tunic-Style Dress in...
Venus Flowers
Floral Printed Rayon Maxi Dress from Bali
Strawberry Bouquet
Floral Rayon Button-Up Sundress in...
Wijaya Kusuma
Rayon Wrap Dress Designed in Bali
Our handmade collection. Artfully crafted by global artisans.