Manuel Fredebrecht
"This is what is satisfying about this jewelry making: that there's no reason for the things that I imagine to stay in my mind – I can materialize them."
"I am a Nicaraguan man in love with the silver arts. I was born in Chile in 1971 but life's reasons led me to make
...
Nicaragua my home. My friends refer to me as pelón because I am bald, and they see me as a creative and innovative person.

"My art makes me very happy and I am very grateful to my mother, Monika Fredebrecht, for teaching me with so much patience and love. My mother is a silversmith and I grew up in a jewelry workshop. I've always loved this art form because it allows my imagination to run free. I can imagine a design, then craft it and therefore touch it. This is what is satisfying about this jewelry making. There's no reason for the things that I imagine to stay in my mind – I can materialize them.

"With time, I came to understand how much I love this art form and decided to dedicate my life to it, so I had to drop out of school because, in Nicaragua, becoming a silversmith is not part of the academic curriculum.

"It's not easy being an independent artist and not having a steady income to count on. But it is an adventure, an adventure with many challenges, especially financial and bureaucratic. But freedom compensates for it, and that's what is important.

"What I love most about what I do is seeing people wearing my jewelry designs. It's something I am passionate about though it is also a constant challenge because it's important that the jewelry adapts to the person wearing it without causing discomfort.

"My other personal challenge is feeling completely satisfied with each new piece – this is rather difficult for us artists as we tend to constantly find details that others might not perceive. However, that's what makes each day different – it's a roller coaster of emotions and inspiration.

"Making jewelry is a very personal and interesting art form. It provides work to those who wish to learn it and lets them be self-employed. Jewelry allows us to preserve this millenary art form, which hasn't changed in terms of the creative and crafting processes.

"Thank you, dear friends, for your interest in my story and in my designs."
Sun and Moon
Sterling Silver Cuff Bracelet with 21k Gold Accent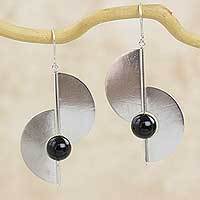 Two Moons
Modern Geometric Sterling Silver and Onyx Hook Earrings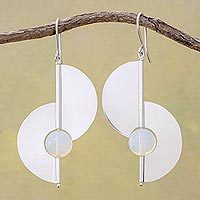 Modern Half-Moons
Opal and Sterling Silver Modern Earrings from...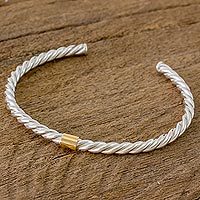 Rope Twist
Gold Accent Sterling Silver Cuff Bracelet from Nicaragua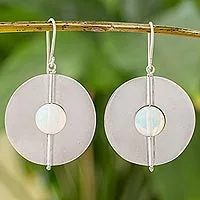 Full Moons
Opal and Sterling Silver Dangle Earrings from Nicaragua
Sunshine and Moonlight
Sterling Silver Gold Accented Cuff Bracelet
Precarious Balance
Semi-Circle Sterling Silver Dangle Earrings from...
Ultimate Ajmaq
Sterling Silver Men's Mayan Cufflinks from Nicaragua
Frames
Square Sterling Silver Frame with Onyx Orb Dangle Earrings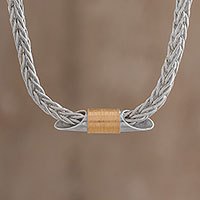 Elegant Form
22k Gold Accent Sterling Silver Pendant Necklace
Our handmade collection. Artfully crafted by global artisans.