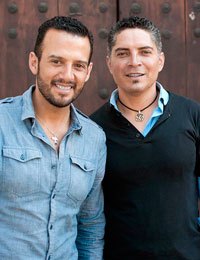 Fernando and David
"To us, movement is about making the choices to improve the life of others."
Son of Guatemalan parents, David grew up in Los Angeles, while Fernando grew up in Guatemala. Both born in the 1970's,
...
they are each the children of artisans who specialized in different fields, and so they were brought up with a love and passion for design and artistic creativity. Eventually Fernando moved to Los Angeles, where he met David and they became partners in art, and in life.

"We were both seeking for meaning in our lives, something deeper. We realized we needed to abandon the comforts of life in the U.S. and return to Guatemala in search of purpose in our work," they confide.

On May 27 2010, the Pacaya Volcano emitted a powerful eruption, expelling debris and columns of ash up to 1500m high. Nearby villages were showered with ash and sand, including Guatemala City. On the morning of May 28th people awoke to thick coatings of ash on rooftops, streets and cars. The situation worsened with the arrival of tropical storm Agatha, which caused floods and landslides. Many families were left without a home.

Seeing the devastation around them, Fernando and David sought for a way to turn it into a constructive opportunity by looking for a way to help homeless families by generating resources.

"After Pacaya's last eruption we were sitting in front of a church and we were illuminated by the Lord with the idea of creating jewelry with the lava," recalls Fernando. "We started with the basics, we researched all the different techniques we could try out, as well as the materials that would combine with the lava."

"We work with volcano ash and coconut shell, which are materials that are relatively easy to obtain. We can get the coconuts from several places, like markets or at the beach, since they are sustainable," David explains.

Fernando and David have set up a workshop where they work alongside a group of artisans. They are involved in every step of the process, from designing to finding places to sell their products. They are committed to donating 15% of their earnings to a volunteer group that builds houses for those left homeless in the country's rural areas.

Their dream is to see their workshop grow so they may offer work to more people in the community.

"I would like to have a workshop where we can craft more items, diversify my potential and so be in a position to create more job opportunities for the elderly," confides David.

"My dream is to become a better person. I hope to grow as a person and as an artist by improving my designs. I want to create more beautiful things and with them touch other people's lives," confides Fernando.

"To us, movement is about making the choices to improve the life of others."
Wisdom and Valiance
Coconut Shell and Lava Stone Eagle Pendant Necklace
Mighty Dragon
Coconut Shell and Lava Stone Dragon Pendant Necklace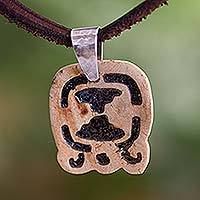 Tijax Nahual
Men's Handcrafted Nahual Coconut Shell Pendant Necklace
Corazon
Hand Crafted Volcanic Ash and Sterling Silver Hook Earrings
Pacaya Volcano
Handmade Painted Coffee Tree Wood Magnet with...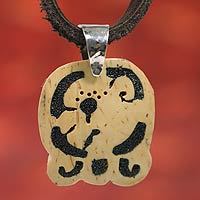 Tz'i
Men's Central American Leather and Coconut Shell Necklace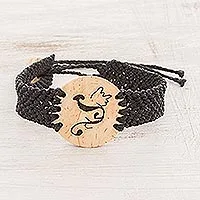 Abstract Phoenix
Phoenix Coconut Shell and Lava Stone Pendant Bracelet
Creative Destruction
Men's Coconut Shell Natural Handcrafted Necklace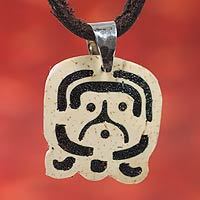 Ajpu
Men's volcanic ash pendant necklace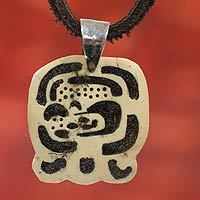 Kan
Men's Inspirational Leather Coconut Shell Pendant Necklace
Bulldog
Coconut Shell and Lava Stone Bulldog Pendant Necklace
Our handmade collection. Artfully crafted by global artisans.