Panapha
"Just by creating different pieces of jewelry I found that I was able to relieve my stress and find my focus again."
"I am not a talkative person, I am actually rather quiet and I sometimes find it very difficult to express myself in
...
words. I do however, love to express myself by painting beads or by making jewelry – it helps to hold my thoughts together. I remember drawing on the walls when I was young, which would make my mother very angry and so every time I did it, I would then have to clean it up. Now that I am older, I find the same pleasure in a healthier outlet, beading and creating jewelry.

"I was born in Bangkok in 1979, the third of five daughters. Even though we have very different personalities, we spent a lot of time together and got along very well when we were growing up. In 1985, financial troubles lead my family to relocate to Chiang Mai, in the north of Thailand. In 1991 my parents started a restaurant in the famous night market of Chiang Mai. The whole family had to pitch in and help with running the restaurant. My sisters and I wanted nothing more than to ease the worries the restaurant put on our parents and, though it was a stressful time, the opportunity to do this together brought us closer together and created a sense of unity in our family. Every day my sisters and I would go to school and every afternoon we would come and help in the restaurant. It was a good opportunity, as it made me realize how hard we need to work in order to earn a living.

"The night market in Chiang Mai is famous for traditional arts and crafts and it was during my time there that I had the opportunity to learn how to make jewelry from the artisans there. I loved it! I realized that it is possible to earn a living from something you love doing. I am very appreciative of my time at the night market because it has given me many skills which I use every day.

"When I graduated from art school, I was very proud because I knew this would let me do what I loved while earning a living at the same time. However, reality was not quite what I had visualized. I ended up with a job in the publishing industry and not having the creative outlet that I was expecting. I found that I had to force myself to get up each day and earn a living. I realized that I was missing something in life, and that was putting my heart and soul into my art. There came a point when I was very stressed at work and tired of not having a creative outlet, so I took up beading again. Just by creating different pieces of jewelry I found that I was able to relieve my stress and find my focus again. I consider it my therapy.

"I am so grateful to you for giving me such a great opportunity to do what I love. I hope that more than anything, I am able to do what I love and love what I do, all the while earning a living from it and being able to provide for myself and my loved ones.

"More than anything, I would like to thank my family and send them my love for giving me all the support they've given me. I know that, more than anything, they just want to see me happy. I am very thankful for this opportunity that I have. I will cherish it for as long as I can."
Fortune's Wisdom
Artisan Crafted Leather and Amethyst Wrap...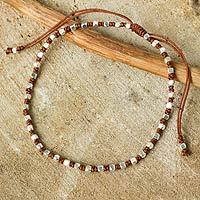 Autumn Morning
Handcrafted Beaded Bracelet from Thailand
Evening Raindrops
Handcrafted Leather and Gemstone...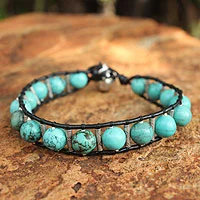 Hill Tribe Sea
Artisan Crafted Turquoise Colored Beaded...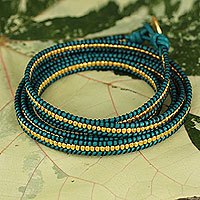 Golden Azure
Fair Trade Gold Plated Brass and Leather Wrap...
Forest Heart
Leather and Quartz Wrap Bracelet
Our handmade collection. Artfully crafted by global artisans.