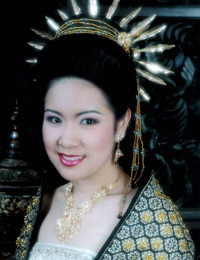 Keawpankanlaya
"My mother and I thought about how much we love cloth and textile arts. So we realized that we would like to preserve Thailand's silk brocade legacy until our last breath."
"The textile art of Thai silk brocade has become part of my life. I grew up with it and met village weavers with my mom
...
from the time I was young. I saw warm silk, elder women weaving on a loom with wrinkled hands raising the threads from side to side, the colors, patterns and designs that they created. Suddenly I told myself that I would become one of them.

"I'm Keawpankanlaya Kanlayanamit, but everyone calls me Lukkaew. I was born on January 25, 1978 in Chiang Mai and I have one lovely sister. My family moved around a lot because my father is a soldier. My mother is a dressmaker, like my grandmother was.

"She loves our silk brocade and I often accompanied her to Lamphun, the center of Thai silk brocade weaving. I'd meet the villagers and listen while my mother talked with them about patterns, design and color. I saw how each piece of Thai silk takes a long time to create. The painstaking workmanship, the scent of dyes, the people's creativity and their passion for silk made a deep impression on me.

"Only older people were weaving silk and I asked them, 'Why don't you try another occupation?' They told me, 'We inherited the craft over many generations and we cannot live without it. We are proud of it.' My mother and I thought about how much we love cloth and textile arts. So we realized that we would like to preserve Thailand's silk brocade legacy until our last breath.

"Together, Mother and I create dresses, cloths to wrap around the bust, and hair bands in northern style, and the pa sin, or long skirt, all made of Thai silk brocade. At Chiang Mai University, I majored in textile design with a minor in photography. Mother never forced me to study, but she encouraged me. 'Art is fun,' she told me. 'You should go for it.' And so I did.

"After I graduated, I set up a photo shop and my mother trained me about Thai brocades. They are made of natural silk and cotton, and are very comfortable to wear. When I photograph people, I like to see how beautiful they are when they wear Thai silk. My mom and I also craft brocade tablecloths and wall hangings.

"A turning point in my life was when my mother fell in the bathroom and the doctor found out that she had high blood pressure. She stayed in the hospital for a month and, at the same time, an electrical short caused a fire in my photo shop that ruined 80% of it. I was really depressed. All my money went to the hospital and to repair the fire damages. It was tough for me without my mother. But from that moment, I told myself that nothing is impossible. I would somehow find money for the hospital and make money to fix my photo shop before the high season.

"I met NOVICA through my cousin who has been a collaborator for two or three years. I was surprised, because NOVICA doesn't take advantage of us. Instead, they help me and my family make a living. Now I can tell the Lamphun villagers that their Thai silk brocade is on the Internet and will be famous around the world. The elderly weavers will be delighted."
Native Geometry
Geometric Motif Brown Cotton Tote Handbag...
Crimson Lotus
Cotton Sling Handbag from Thailand
Woven Magenta
Traditional Handmade Yok Dok Cotton and Silk...
Light Blue Lamphun Blossom
Black and Light Blue Cotton...
Spring in Thailand
Black Cotton Tote Bag with Stripe...
Brown Lotus
Cotton blend table runner
Lanna Caramel
Geometric Cotton Shoulder Bag in Caramel...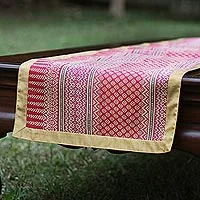 Rosy Apple
Silk and cotton table runner
Royal Blue Lamphun Blossom
Black and Royal Blue Floral...
Pattern Statement
Black and White Patterned Woven Wall...
Sweet Lanna
Hand Crafted Cotton Wall Hanging from Thailand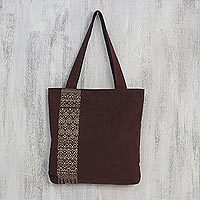 Golden Lanna Lotus
Handcrafted Cotton Embroidered Shoulder...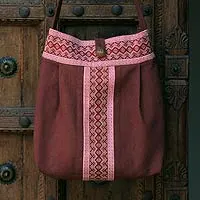 Lanna Bouquet
Floral Embroidered Cotton Shoulder Bag
Our handmade collection. Artfully crafted by global artisans.