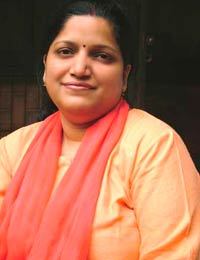 Vidushini
"Though I have not had any formal training, it was not difficult for me take up this art. I have inherited it from my culture, and it feels great. I take pride in it."
Update (May, 2019)"It's been 14 years now since I first began working with you. Everyone liked my painting and
...
Update (May, 2019)

"It's been 14 years now since I first began working with you. Everyone liked my painting and encouraged me to pursue it professionally. That is when I happened to learn about the great opportunity you provided for upcoming artists and artisans across the globe. This was a good chance for me to show my talent to the world. When I first met you, I had just started painting. Over the years, I have grown as an artist.

"In Bihar, this art is a ritual that is done on the walls during every wedding. Initially, I used to just fill colors on the designs. Later on, I learned the art by myself. I execute my paintings by using natural colors on handmade paper. Brushes, sharpened reeds, and pen nibs are used to draw the designs and figuration. I also love to do contemporary paintings, while maintaining elements of Madhubani style.

"Along with Madhubani painting, I have learned the beautiful 'Gond' painting style too. I use to admire Gond paintings during my visits to folk art fairs. The style, the bright colors and the intricate patterning through dots, lines and curves inspired me to paint and learn more and more about this art form. It has always been my dream to learn more about the different art forms of India and paint them. I derive great pleasure and happiness in learning and painting the many forms of traditional arts. Earlier, I was concentrating only on Madhubani paintings. But now, with the passing of time, I have created journals, albums, photo frames, greeting cards and many more art expressions with my paintings on them.

"At present, I manage the largest Facebook group on Mithila paintings, with 19,000 members from around the world and from where Mithila painting originated. I keep getting queries from new learners, and others who want to improve their work and explore new opportunities. I have also conducted Madhubani painting workshops in Bangalore and Delhi for individuals, schools, groups and also at some of the leading technology companies and leading institutions like the Indian Institute of Science in Bangalore. In collaboration with an NGO in Bangalore, I am teaching young aspiring artists the traditional ways of Madhubani art and also how to execute Madhubani painting on wooden trays, journals, photo frames, and other items. They are crafted by the artisans of the NGO, to keep the tradition alive. I have also authored a book titled, Documentation on Madhubani painting. This was commissioned by MSME, Hyderabad.

"Last year I donated two of my paintings, 'Elephant Connection' and 'Tree of Life' to CRY — Child Rights and You — in order to support the children of CRY. Another two of my paintings are used by CRY for their greetings cards and weekly planner, the proceeds of which will go toward childcare. Being a mother, I understand the needs of a child. I always wanted to help underprivileged children in some way, but didn't know how to do it. But then I got in touch with CRY during one of their noble initiatives of sourcing art from prestigious artists. I readily agreed and wanted to do my part by contributing through my artistic skills. I hold CRY in high esteem and am proud to have been associated with the organization. I'll be more than happy to participate in similar initiatives for CRY in the future. It has been a wonderful journey for me so far and I am thankful to all of you for bringing out the artist in me. I wish to spread the beauty of traditional Madhubani art to the whole world."

Original Artisan Story

Congratulations go to Vidushini! Her painting, Tree of Life has been selected by Delhi University for the cover of their book, Indian History and Culture.

"I was born in Kolkata in 1972 and brought up there. I come from Bihar, the state where Madhubani painting originated. I was born to a family of film distributors and grew up watching Hindi movies. I studied up to my tenth standard in Kolkata. Later my parents moved to Patna and this is where I continued my studies with a graduate and post-graduate degree in chemistry. After finishing, I went into the teaching profession. When I got married, I moved to Delhi and now we are in Bangalore.

"My association with painting began not so long ago. Although I occasionally painted when I was a child, it was not with an intention to continue professionally. However I was much inspired by the Madhubani art that originated in my home state. I started to paint again after I had my first baby. I stopped teaching when he was born, since I needed time for my son. But at the same time, I wanted to do something that I could do from home. So I started painting. Initially, it was for decorating my home and making paintings for friends and relatives. Everyone liked my work and encouraged me to pursue it professionally.

"Though I have not had any formal training, it wasn't difficult for me take up this art. I have inherited it from my culture, and it feels great. I take pride in it. Right now I am concentrating on Madhubani paintings only, but one day I would definitely like to venture into different media and themes."
Lotus Peace in Pink
Hand Painted Lotus-Themed Silk Scarf from India
Fish Family
Madhubani Style Fish Painting
Fish Union
Colorful Madhubani Painting with Fish Motif
Elephant Harmony
Handwoven Elephant Motif Madhubani Silk Scarf from...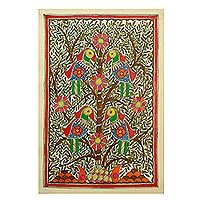 Tree of Life
Madhubani painting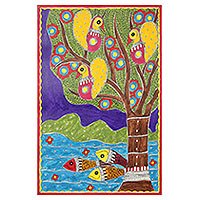 Celebration of Life
Colorful Madhubani Folk Art Painting from Indian...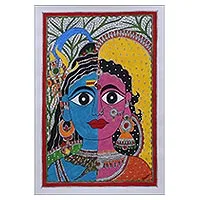 Ardhnareshwar II - The Union
Signed Hindu Madhubani Painting of...
Courting Birds
Madhubani Style Painting of Birds in Tree
Spring Greetings
Acrylic Bird and Tree Painting on Handmade Paper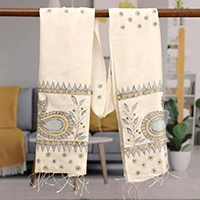 Peacock Friends
Hand Woven Peacock Fringed Silk Scarf from India
Ardhnareshwar Union
Madhubani painting
Our handmade collection. Artfully crafted by global artisans.