Daeng Thanunchai
"I must use all my knowledge and experience, be extremely focused, and above all very patient."
"My name is Daeng Thanunchai and I have been crafting lacquer wares for over forty years. I was born the 6th of
...
February, 1946 in northern Thailand. I took courses in primary school, but did not carry on afterward because my parents did not have the financial means to afford the education of six children. I was only eleven years old when I dropped out, and with my future ahead, I looked for something to do. We heard one day that the Department of Factories promoted a course in which a lacquer ware specialist from Japan would train interested people. It was a great opportunity, so I enrolled and learned from this Japanese master of lacquer for six years.

"Upon completion, I worked for the company who funded the course. There, I enhanced my knowledge and gained more experience along with my foreman and my friends. It was also during that time that I met Jinda, who was later to become my beloved wife. I worked for this company many years to the best of my ability, and I climbed step by step the hierarchy ladder to be eventually promoted head worker. The owners, my co-workers and the customers liked my works and that really made me proud and happy.

"But I gradually thought to have my own shop, because I was not challenged anymore and also because at about forty years old I wanted to be someone else than a factory worker all my life. In passing, I was also frustrated that the company took all the credit for every prize my work was awarded in exhibitions. Subsequently, I resigned and set up a little workshop in my house. I invited a couple of artisans to help me, but I never taught them anything for they were already quite skilled in their particular field. I have two sons but they are not interested to learn my craft. I have not taught anyone for a long time, because teaching requires constant attention and hard work and I now want to be unworried and rest, but I also feel sad that nobody will carry on after me.

"Handcrafting lacquer ware is extremely difficult. I must use all my knowledge and experience, be extremely focused and above all very patient. A single piece takes me between one and two months to complete, sometimes even longer. In the past, when technology was not as advanced as it currently is, it took us even longer a time for we had to obey the natural laws, follow the seasons, and give into their wishes. You see, the humidity is a very important factor in the drying of liquid lacquer. In summer, we simply could not work with the lacquer for it would melt and behave strangely. Nowadays, to craft an object, I firstly design the shape and think of colors matching it. Then artisans make the object out of coiled bamboo and I lathe it. I also have adapted other materials to specific shapes so as to craft innovative items. I particularly work with clay that I prepare and that the artisans shape later on the wheel. Presently, I just work when the orders come in and rest in between.

"I am very pleased to have come in contact with you, and I am glad to see that objects made with my hands are going to reach people all over the world. I want to tell the customers that I spent my whole life to be a lacquer artisan, and my wares somehow represent this life. I will keep on crafting my objects to my best and you will not be disappointed when you hold and display them."

To complete this piece, coiled bamboo basketry is first carved on a lathe into the desired shape. A mixture of lacquer and ashes of burnt rice paddy husks is then applied to the object. Upon exposure to air the mixture dries to form a watertight seal that is polished before another coat is applied. This process is repeated until a rigid base is formed, and a final polishing is executed with sandpaper. Then several coats of pure lacquer are painted on the object, with drying periods in between each coat.
Mercury
Lacquered bamboo pot
Orbit
Lacquered bamboo vase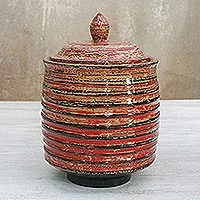 Ascension
Lacquered wood jar
Lava Temple
Lacquered bamboo vase
Our handmade collection. Artfully crafted by global artisans.