Anaychay
"Each collection is a birth; it is like a new child, like a new beginning."
"I was born in Paris, France, to a Peruvian mother and a French father. I am proud to have both cultures in the blood,
...
as both are recognized for their fascinating textile work and wonderful culinary culture.

"If my friends were to describe me, they would say that I am a sincere person, very direct and demanding. Determination comes from demanding and achieving goals; being a decisive person. Many times I have fallen, but I have kept going and I always learn. I consider myself a person who is faithful and who also gives her trust completely to people.

"I don't feel entitled to complain about my life; I have met people with much more complicated lives than mine. Of course I've had my struggles; I've fallen and I've also gotten up. Honestly, I greatly admire the strength of the artisans I work with.

"Becoming an enterprising woman is something I would never have imagined, and that is something that was born when I decided to come and live in Lima with my family. What inspired me the most was living here in Peru, because there is always a mentality of getting ahead, of always starting over. Everyone encouraged me, told me that nothing could go wrong, and gave me more confidence.

"When I came to Peru to visit my family, we went to Cusco, Arequipa and Iquito. All the colors, textures, landscapes and music inspire me a lot to this day. That is why coming back to Peru to live was like a rebirth for me.

"Anaychay is a small team, and that is why we had to learn everything about all aspects; from what is a gauge, to how different cuts work and making the most of materials. Every day I continue to learn according to the challenge that arises.

"What I like the most is the fabric, and to transmit to the client the history of a culture or several cultures; a message of cultural diversity. I also love to convey to our customers that through the purchase of our pieces you support entrepreneurial artisans and designers in Peru. My inspiration comes from what I see around me: smells, urban images, colorful parties, family and fauna, and also, of course, my own history. Everything that I can feel, I try to adapt it to my universe and make it more contemporary.

"Working on my own and directing Anaychay meant learning many different things-- learning how to design, how to capture ideas through a drawing and how the drawing is transformed into a message. Each collection is a birth; it is like a new child, like a new beginning. I think about production, quality and design. I am proud of what we have been able to achieve thanks to effective and beautiful teamwork. I am always looking for people who have the same vision and sensitivity as me, who can understand the messages behind each design and are dedicated to their art.

"I dream of achieving collaborations. The more orders I have, the more work I will give to the artisans so that they can give a better future to their family, have more time for themselves, and have a better quality of life. I always take into account that the prices are fair on both sides, and that they are also inspired by the entrepreneurial spirit that we carry within."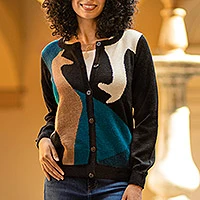 Llama Drama
Artisan Crafted Llama Cardigan in 100% Alpaca
Our handmade collection. Artfully crafted by global artisans.