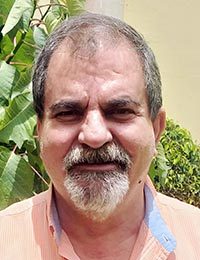 Sierra Embroidery
"Our love for our art and our dreams can be reflected in good embroidery."
"Working on our own has been a challenge but over the years we have learned to improve so you can feel confidence in our
...
work.

"Promoting the work of local artisans didn't happen overnight. It takes effort and — above all — love for what you do. Our experience in this world of handicrafts has shown us how the financial crises have affected other businesses as well as our own. Diseases like the current pandemic and other circumstances have affected us all in some way. But we haven't let them defeat us because our faith, hope and enthusiasm for this work keep us going with this wonderful art.

"From the very first moment we came to love these designs, we didn't want to stop. We work hand-in-hand with artisans from the Sierra Madre who embroider designs inspired by nature itself. They are in charge of crafting our apparel, from tracing patterns, cutting the fabric, and stamping a motif on the cloth to guide the next step, which is hand-embroidery. We seek to maintain the same design but they can still vary slightly, because the work is entirely handcrafted and different artisans may work on them.

"When your family is helping you, they also help form a good work team. It makes you a more responsible person, by appointing each one to handle a certain task and everyone doing their best, sharing ideas and working with passion.

"Our materials vary occasionally. We work with pre-washed denim, cotton and colorful embroidery floss to give more life and quality to each of our designs and so they won't be affected when washed. The artisans who collaborate with us create their designs according to their sensitivity, which can vary and become very personalized.

"In these uncertain times, we work to reaching many different places and surprise people with Mexican art. Our love for our art and our dreams can be reflected in good embroidery."
Flower Garden in Gold
Golden Embroidery Reusable All...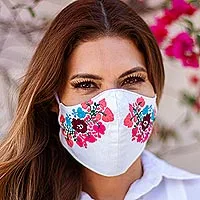 Summer Roses
Reusable Floral Embroidered Cotton Face Mask
Beige Oaxaca Blossoms
Hand Embroidered Beige & Black...
Our handmade collection. Artfully crafted by global artisans.