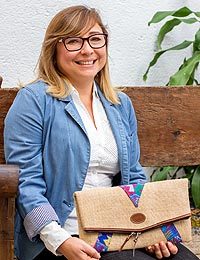 Kory de Hernandez
"I want to be that small seed that makes others passionate about appreciating Guatemala and using its resources."
"The craft world is wonderful and working in it has been unforgettable with the people I've met along the way. There's nothing better than being surrounded by others who are as proud of their roots as I am.

"I'm Corina Leiva de Hernandez and I was born in Guatemala City in 1966 to a loving family who taught me to fight for what I wanted.

"A few years ago, I began designing handbags and accessories where I could add a touch of Guatemala and what could be better than the hand-loomed weavings of my beautiful country? At first, I crafted the bags myself, but then I saw the need for working with artisans who could help me create new designs.

"Since then, my world has expanded in many ways after meeting wonderful people who want to work and get ahead. I'm inspired to design so that shoppers can take a piece of my country and its wonders with them wherever they go.

"My handbags give work and growth opportunities to women weavers who have been a fundamental part of this dream where I've learned to overcome my own fears and follow my heart.

"I have struggled against adversity to demonstrate to myself that I can do it. There are always difficulties, but the sky is the limit because I work with passion and determination.

"Thanks to my work, many people know me as a hardworking, honest and enterprising woman. This hasn't been easy work. It was challenging at the beginning, but my survival instinct emerged and I learned that every difficult moment has a satisfying end. God guided me through every step and has given me the strength and motivation to continue this work that has given my life in a new direction.

"I want to continue to grow, to study more about handicrafts. I want my accessories to showcase my country's beauty, and give more work opportunities to people. I want to be that small seed that makes others passionate about appreciating Guatemala and using our resources. I want each woman to know her value and for their daily work to be recognized for helping their families. In a small part of my beautiful Guatemala, I seek to be an agent of change that's needed these days, where faith and values can be a source of light for the families that need it."
Our handmade collection. Artfully crafted by global artisans.