Talk about girl power! Sometimes the greatest form of inspiration can come from another person. Gloria Mangi, the woman behind the Africa Queens Project whose slogan is "Changing the African Woman's Narrative" believes women can help other women re-write their script one word at a time through stories.
The African Queens Project, born when Gloria was selected among the 25 young African women leaders for a fellowship (MILEAD) in 2012, utilizes today's technology to promote positive stories about women with the intention of inspiring other women. Mangi says, "Africa is predominantly a patriarchal society…the woman usually serves as a second class citizen. By promoting stories of influential women, we become a part of changing the narrative and document the stories [for future generations]."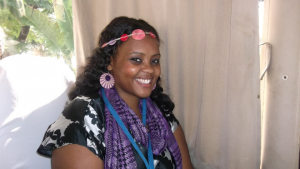 The African Queens Project, recently relaunched online, shares the stories of African women through videos, interviews, TV, Radio and audio bites, with the goal of profiling strong women from different walks of life, sectors and communities. The hope, is these stories will motivate and inspire women to take charge and change their own environment.
The content on the site is very deep and intellectual and is presented in a 'series' format. Each 'series' profiles a certain 'type' of woman, from a certain sector, such as entertainment, business, community work and/or advocacy. To date, they have profiled Abby Plaatjes, Maame Afon, Vanessa Mdee, Seko Shamte, Chimamanda Adichie, and Ellen Johnson Sirleaf.
Though often overlooked because of the male-dominant community, the women of Africa do have talent that is vast and diverse and needs to be showcased. In 2014, African Queens was named by Google and Africa Connected, among the top 20 projects using technology to promote change.
We all can make a difference, through our words and through our actions. Make a difference today when you shop Unicef Market and shop to help make a difference.