For Spring 2017 the fashion forecast is a mix of statement sleeves, graphic stripes, and everything from big ruffle maximalist to sleek beachwear minimalism pervades. There are 80's silhouettes, fuchsia in shades and decadent vintage florals galore. It is an anything goes eclectic energy and a refreshing sense of freedom desperately needed after the bone-chilling winter months.
There is an opportunity to ethically accessorize at UNICEF Market with a selection of ecologically made, artisan-crafted earrings, and shopping there support UNICEF's mission to help save children's lives.
The 80's have been trending for several seasons. White pantsuits with boxy shoulders and cinched waists are a nod to the Suffragette style of Susan B. Anthony. However, you can trade in big hair for big stones- Onyx, Agate, and Drusy gemstones in cabochons studs, statement size drops or geometric silver pendants.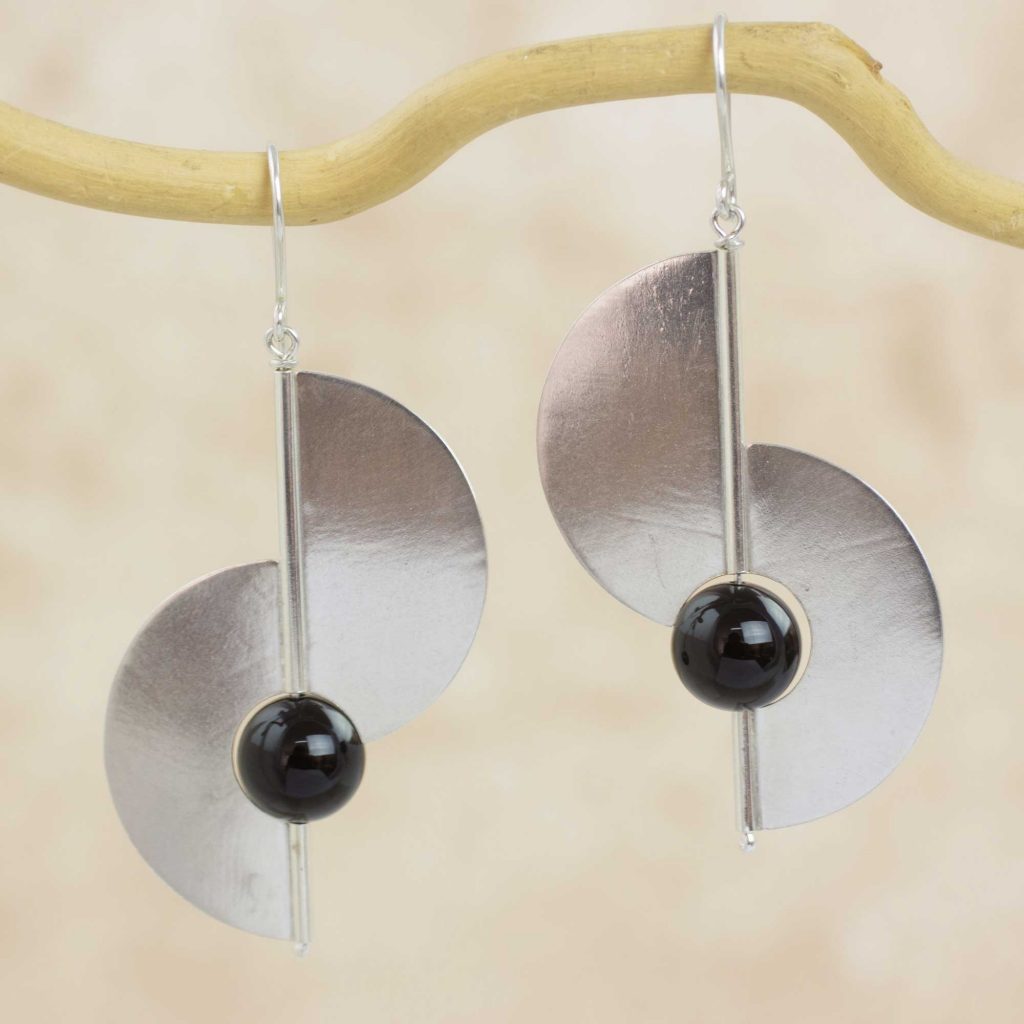 Modern Geometric Sterling Silver and Onyx Hook Earrings, 'Two Moons'
Pearls have not lost their luster, and they appear in all the major runway collections for Spring.  "Full Moon" style drop gemstone earrings and gumball-sized "Pale Moon" pearls are more tongue in cheek, than grande dame when worn with graphic stripes and sleek sportswear.
For Spring, wild wallflower patterns are coming out marching in every silhouette. 20's-inspired rose floristry have been peeled off the walls of stuffy sitting rooms and taken to the streets in a botanical revolution, Virginia Woolf would gleefully approve. Maximalist dresses with ruffles and tulle are worthy of a madcap Bloomsberrian picnic.
For adornment, moody labradorite, moonstone, and garnet gems are typical of Victorian jewelry, but modern ideology intervenes. "Crimson Glow" and "Dusk Aura" have been made ethically in Jaipur, reinventing conventional jewelry methods.
Deco-inspired Guatemalan jade and fair-trade silver earrings from the "Maya" collection are on point politically. Made by artisans in Guatemala, all proceeds for a great cause.