There is nothing more beautiful than kids helping kids. Some would say there is no heart as pure as a child's and four-year-old Blake Booth is the proof. Blake attends Rosewood Primary School and recently learned about a topic much of us are familiar with—disadvantaged children. After learning of the hardships children in other countries like Uganda face, Blake became keen to help. At only four, he knew something had to be done.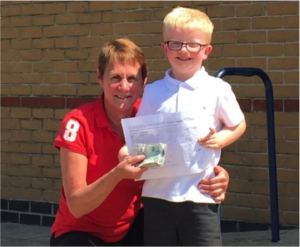 Inspired to help children in need in the African nation, Blake wanted to provide them with toys and some money—offering to bring some toys into school to be sent to the children and inquiring about how to raise money. With the help of his parents, he was able to set up a one-hour-long run/jog/walk to raise funds—he raised nearly $200 (£145 pounds) for a Ugandan charity project building homes for disadvantaged kids.
It is stories like these, a four-year-old with a heart of gold knowing at such a young age he can still do good, that leave us inspired and awaken us to the reality that no matter what our age, circumstance or income we can still give back to those less fortunate. You can make a difference too by purchasing—big or small—at UNICEF market where every purchase helps UNICEF save children's lives around the world.
Also, be sure to check out our kids' gift guide for buying gifts for friends of friends – if you need a creative gift idea for your kids' friends then you'll love our gift guide!
Click here to learn how to sponsor a child with UNICEF USA. And learn more about which charities to donate to today.