The key to layering necklaces is to wear ones of different lengths, using different materials. For instance, you might have a long necklace made of sterling silver to pair with a choker made of leather or other material. Or, you can layer necklaces of the same type, made of the same material. There is also the faux layered look, in which one necklace has many strands, giving the illusion of wearing many necklaces at once.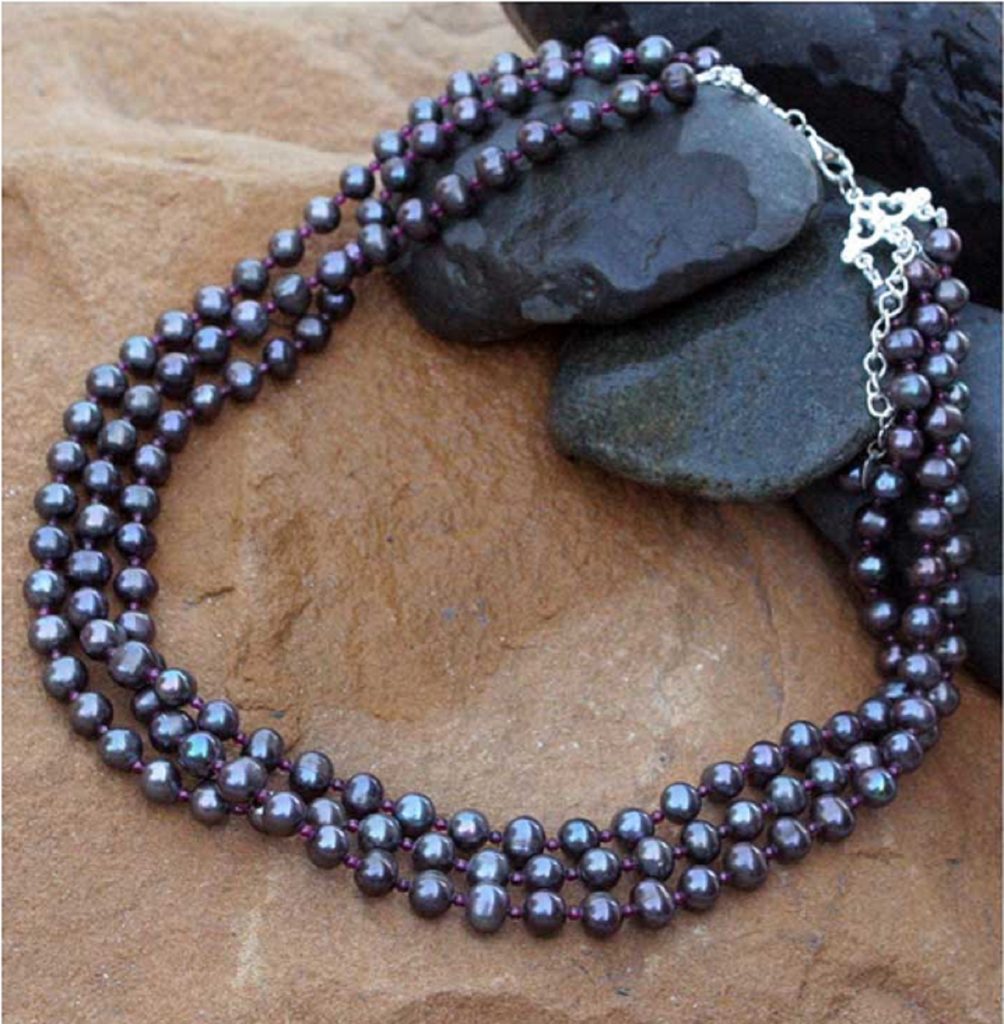 This stunning artisan crafted pearl strand choker length necklace, entitled 'Magic Pearl,' is made of dark cultured pearls. A classic look, but also made unique by the tiny garnet stones distributed between the pearls. The three strands are akin to layering necklaces, though this is one necklace. One could add a pendant necklace of longer length while wearing this necklace for an additional layer. This necklace was handcrafted by Matta in Thailand.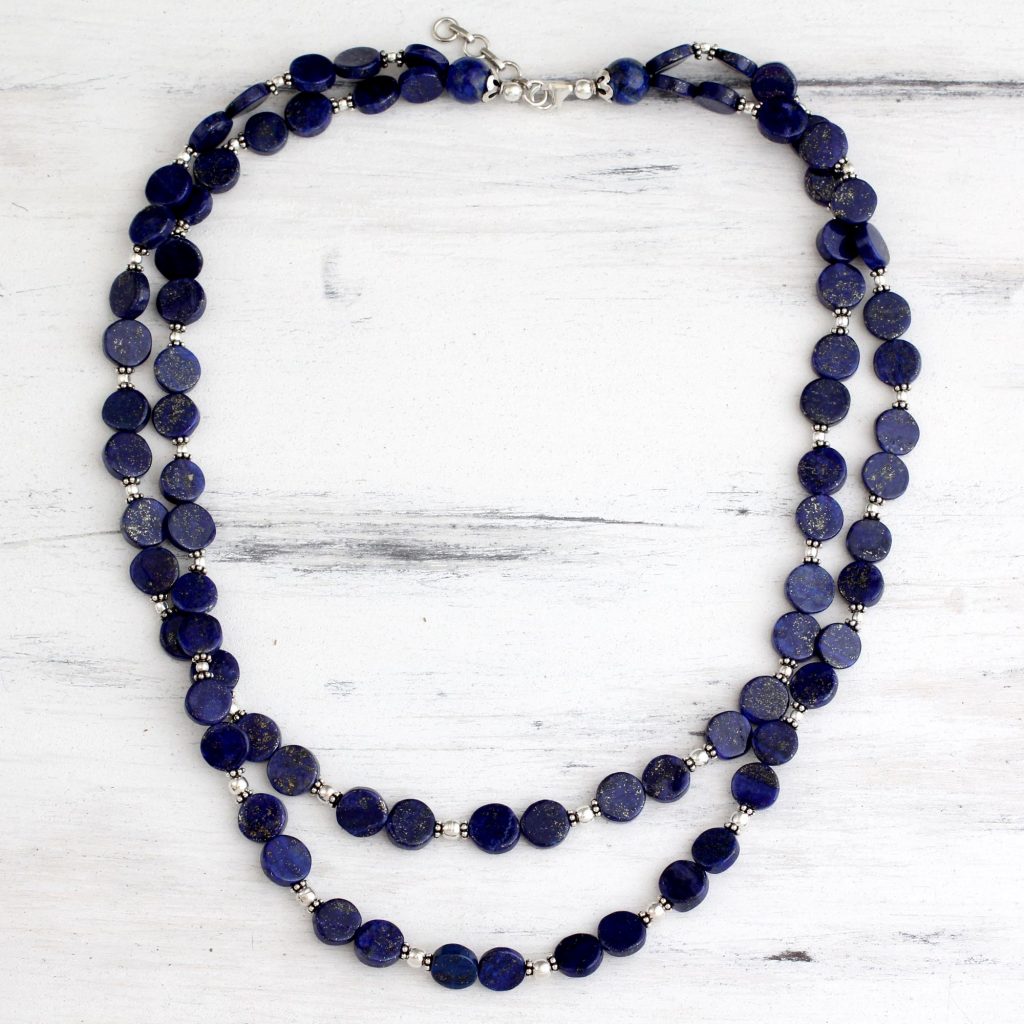 This exotic double stranded choker necklace is made of a deep blue, semi-precious stone called lapis lazuli. Crafted by hand by the artist Narayani in India, this necklace appears to be layered, but can also be paired with other necklaces for more layering and depth.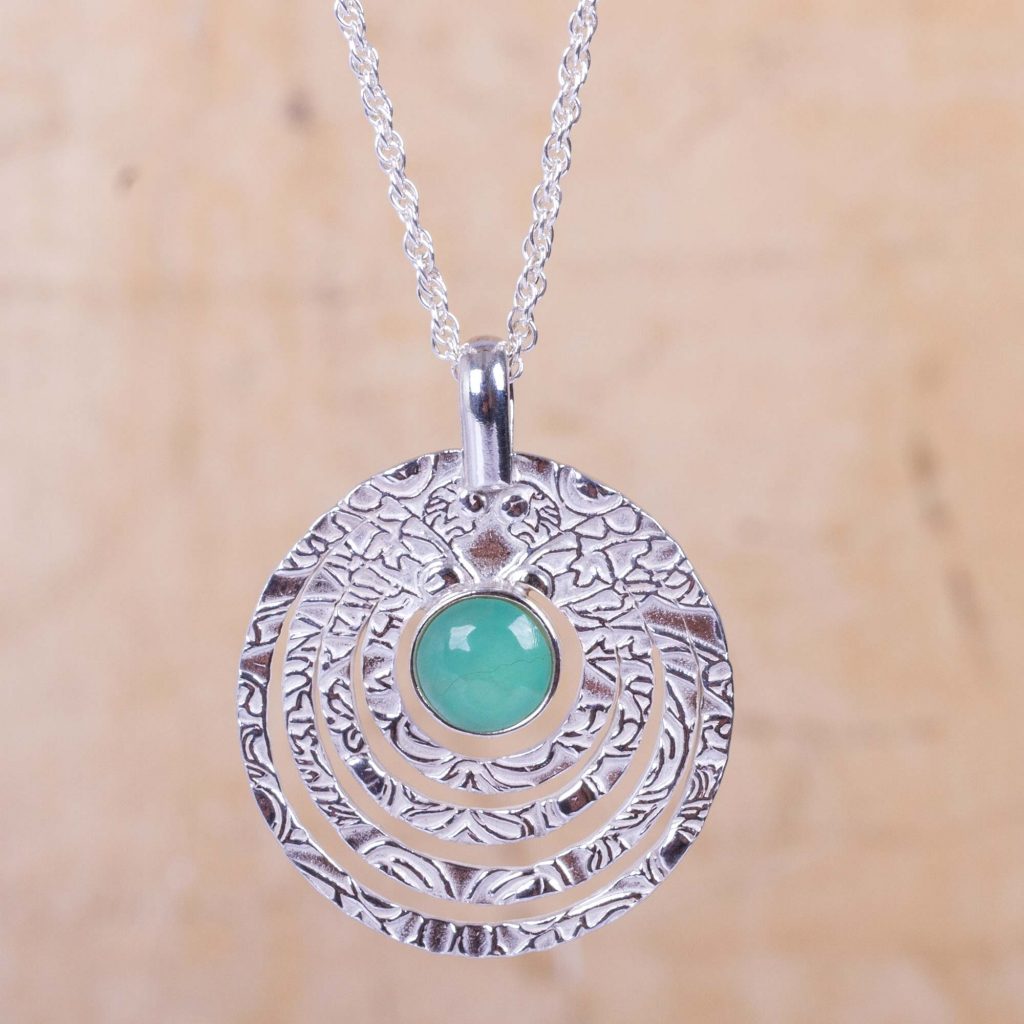 This gorgeous textured sterling silver handcrafted necklace with opal is entitled 'Echo.' Since this necklace is a longer length at nearly twenty inches, it can be paired with a choker necklace and medium length necklace. You can choose two other necklaces made with sterling silver, or wear necklaces made from other materials. The gem in the middle of the ornate and textured pendant is an Andean opal in a beautiful sky blue color. This piece was designed by Patricia Jara of Peru.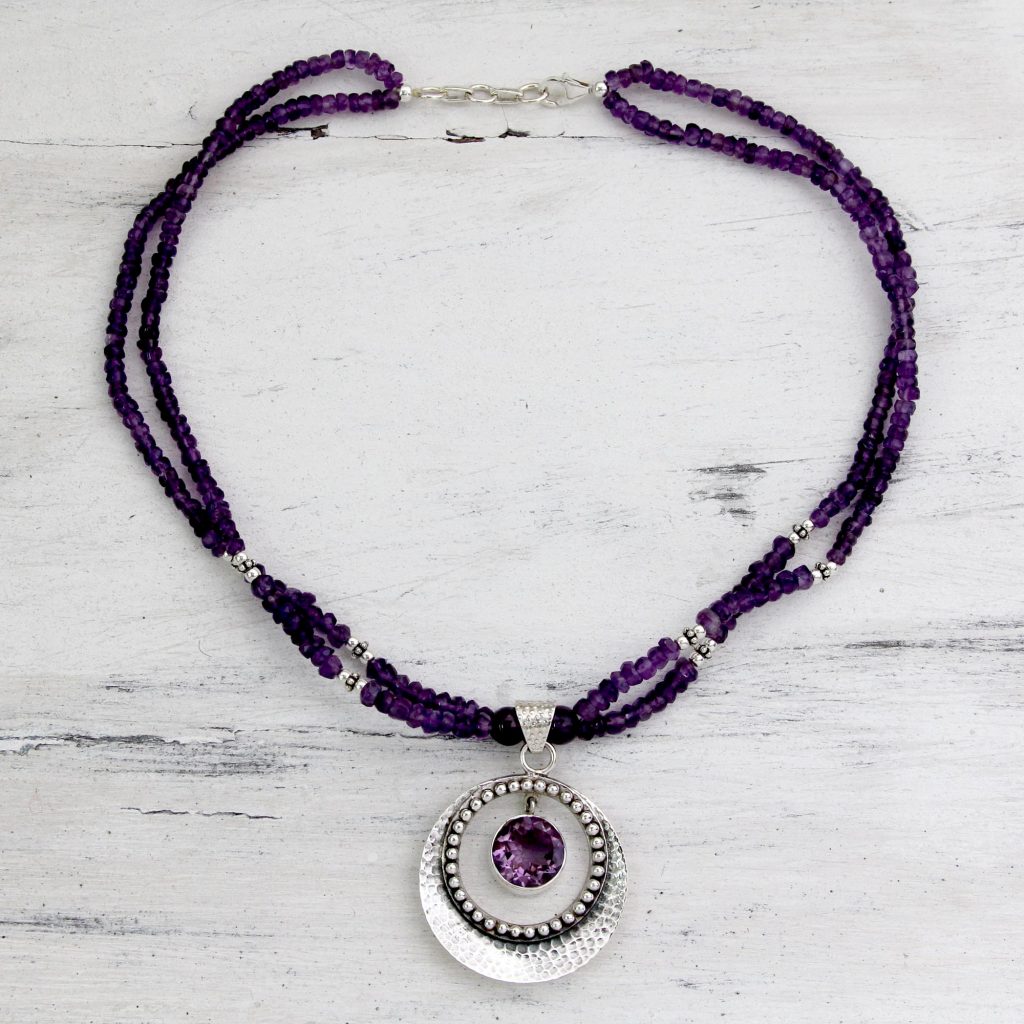 This sterling silver beaded amethyst necklace entitled 'Beautiful Essence' is made from amethyst beads on two silver strands, and features a pendant made from sterling silver and a stunning amethyst gem. The choker length is perfect for layering with longer necklaces – beaded or chain and pendant style. This piece was crafted by hand by the artist Shanker from India.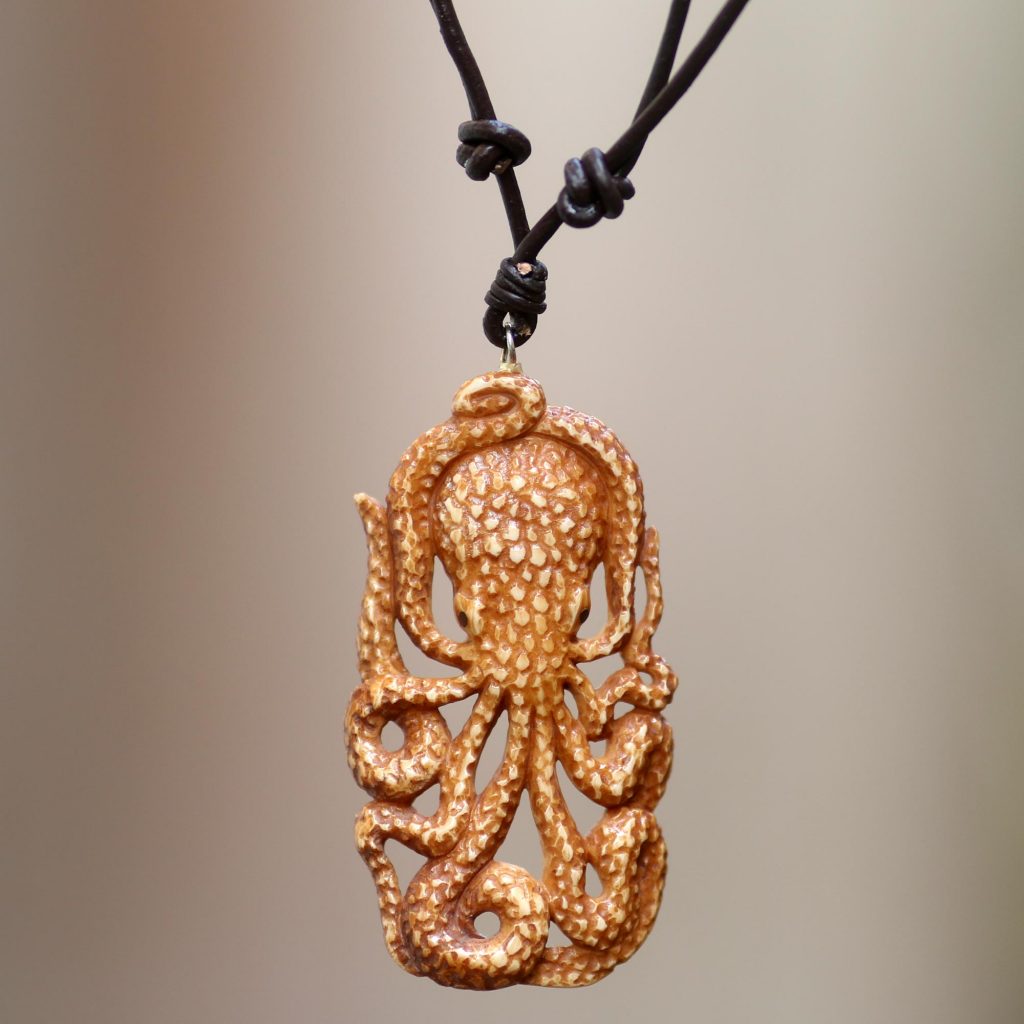 This interesting and unique octopus necklace entitled 'Bali Octopus' is hand carved from cow bone. The brown hue is achieved by staining the piece with tea. This necklace is particularly nice for layering because the dark brown leather cord the pendant hangs from can be adjusted to different lengths. This wonderful piece of jewelry was created by Made Wardika of Bali.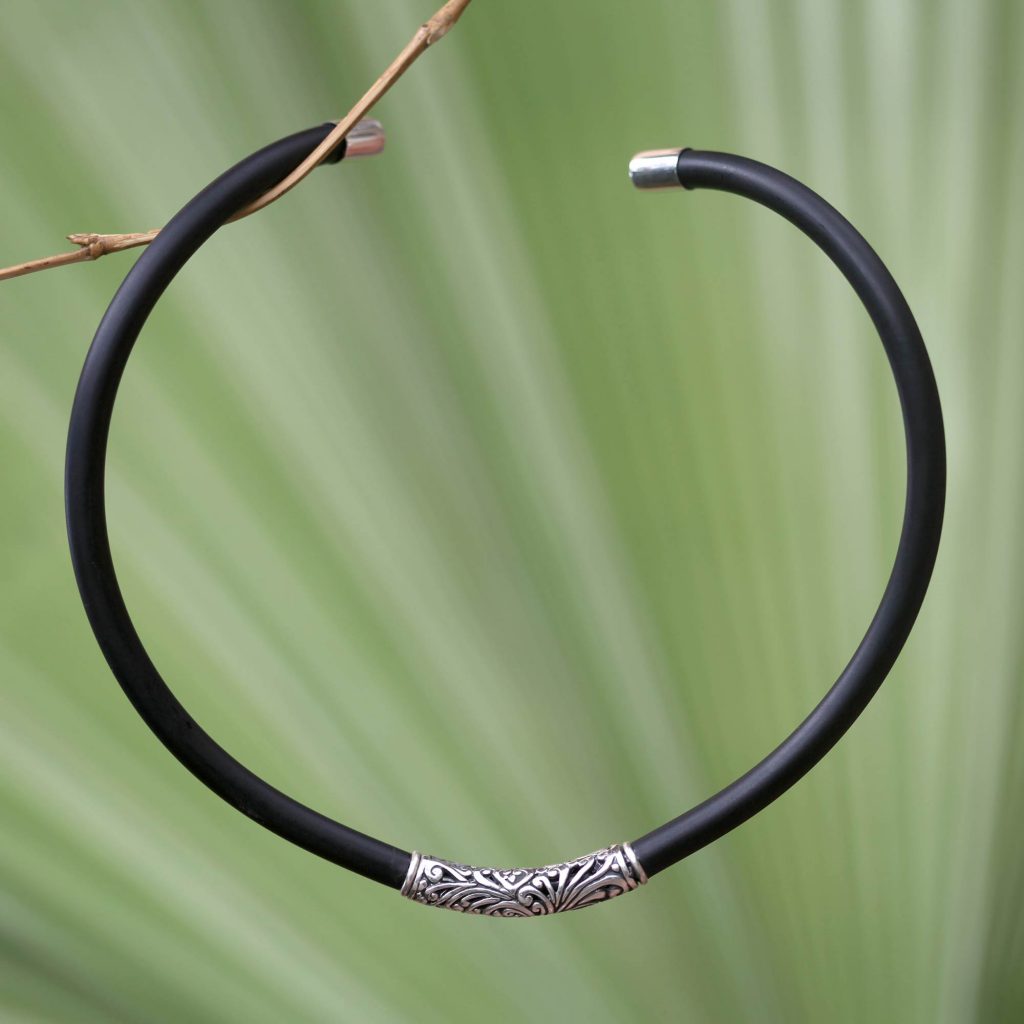 This handcrafted sterling silver and rubber necklace entitled 'Jasmine' features a slender sterling rod embossed with a vine and floral design. The bead is in the middle of a black rubber choker, which creates a striking contrast. This necklace would look beautiful with a long sterling silver necklace, such as the necklace entitled 'Echo' featured above. This piece was created by the artist Wayan Asmana from Indonesia.
This leather choker featuring a sterling silver heart pendant as well as garnet and black spinel accents would be lovely layered with other necklaces of longer length. The design inspires people to love passionately in life. Khun Boom from Thailand is the creator of this lovely piece of jewelry.
With so many great necklaces to choose from on the UNICEF Market website, it's easy to create many layered looks perfect for each individual's personal style.