Trendiness isn't always a positive thing, but it can sometimes be a force for good. One trend that's been making a positive impact over the past decade or so is the growing desire for fair trade and sustainable goods. Fair trade and hand-crafted is a staple of all Market items found in our online gift catalog. Heightened consciousness among consumers in the U.S. is having a ripple effect for farmers and laborers around the world.
Consumers are becoming more aware of the raw materials that go into the products they purchase, the living standards of the people who create them, and the social and environmental costs of the cheapest goods. One of the things consumers look for when they shop is the fair trade label, which exists to easily identify goods that have been ethically produced, but it's not as straightforward as it seems.
The Basics of Fair Trade
Part of the reason fair trade can get confusing is that there's not a singular agreed-upon definition of the term. Still, it has positive connotations, and most people have at least a general sense of what makes a product fair trade. At its most basic, fair trade focuses on paying a living wage and providing safe working conditions, both for people who source ingredients (namely farmers) and those who create products (such as in factories or workshops). Other specific definitions of fair trade also cover standards for environmental protection, transparency, social accountability, children's rights, and other components of ethical production.
Fair Trade Certification
But not only does fair trade not have one standard definition, it also doesn't have one central governing body. Instead, products and companies can be certified by many different fair trade organizations around the world, each of which takes a slightly different approach (and many products that meet the required standards aren't certified at all). But one thing most of these organizations have in common is that their goals are far loftier than simply ensuring that certain products or companies comply with particular standards. Nearly all of these organizations include in their mission statements goals related to alleviating poverty around the world, empowering individuals in developing countries, contributing to sustainable development, and perhaps the loftiest of all, transforming global trade into a system that's just and equitable.
Currently, food products are certified more often than non-food items, but clothes and jewelry are frequently certified as well, especially if they're made of natural materials. For example, cotton sweaters and silver earrings may be certified as fair trade if the cotton, silver, or other raw materials are fairly sourced and the final product is ethically produced. Five main fair trade organizations currently operate in the U.S., meaning there are five different fair trade labels you're likely to see on products in stores.
Fair Trade Certifiers
Three of the five main fair trade organizations in the U.S. are certifiers, meaning they audit specific products or companies to verify that they meet a pre-determined set of standards. Each of the three organizations works with an independent third-party inspector, which issues the certifications.
Fairtrade International
If you thought fair trade was a brand new concept, you might be surprised to find out that Fairtrade International has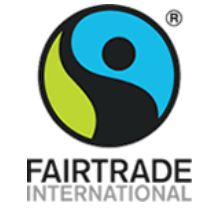 been in existence since 1988. The organization originally began as an initiative of a Dutch development agency, which first certified Mexican coffee sold in the Netherlands, and was then replicated across Europe and North America. Fairtrade International as we know it today was established in 1997 with the goal of uniting fair trade organizations from different countries. With its circular green-and-blue logo, Fairtrade International is now the largest and most recognizable of the five organizations in the U.S. You've likely seen their logo on products like coffee, tea, or chocolate since the organization primarily certifies food items.
Fairtrade International envisions fair trade as a partnership between producers, traders, businesses, and consumers, and it applies specific standards to producer organizations, hired labor, and other entities. In addition to confirming that small farmers receive a fair price for their crops, a Fairtrade International certification also signifies that an additional premium goes back to the community and is invested in local development initiatives. Companies selling products certified by Fairtrade International are audited on a regular basis. The organization currently works with 1,600 producer organizations in 75 different countries.
Fair Trade U.S.A.
Another large organization with a recognizable logo, Fair Trade U.S.A. certifies products in many different categories, including food items, clothing, and cosmetics. A certification from this organization indicates that fair and stable wages are paid, sustainable environmental practices are used, and an additional premium goes toward development in the local community.

The Fair Trade U.S.A. logo has multiple variations, each one signifying that a different part of the supply chain has been certified. For example, different logos denote the use of fair trade ingredients, fair trade sewing, or a fair trade factory. This means you'll see the organization's label on items that aren't fully fair trade – but it also lets you identify products or companies that employ at least some principles of fair trade, which is preferable to mainstream goods that use none of them. Today, goods certified by Fair Trade U.S.A. are produced in 45 countries around the world.
Fair for Life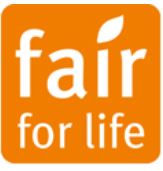 A smaller organization with a similar goal is Fair for Life, which certifies both food items and a variety of other types of products. This organization emphasizes social accountability and the safeguarding of human rights at each step of the production process, and its certification assures both fair wages and safe working conditions. Fair for Life also differs from the other organizations in two main ways: it certifies every single step of the production process, and it certifies entire companies rather than just individual products.
Membership Organizations
The three organizations listed above are all fair trade certifiers, while the remaining two are membership organizations. Instead of an external monitor that certifies individual products, membership organizations are associations made up of businesses and entrepreneurs committed to the principles of fair trade. These organizations verify that members meet all of their criteria or guidelines for adhering to fair trade principles, and the members pay dues to belong. Members of these associations come from every step of the supply chain, from farmers to retailers. Membership organizations also participate in activates like advocating for fair trade and hosting related conferences.
Fair Trade Federation

The Fair Trade Federation is comprised of American and Canadian businesses that are dedicated to social and environmental responsibility in all they do. The Federation requires all members to commit to its nine principles of fa
ir trade, which include respecting cultural identity, protecting the rights of children, building local capacity, and practicing environmental stewardship. Members of the Fair Trade Federation include stores, restaurants, and other brands across North America.
World Fair Trade Organization
The World Fair Trade Organization serves a similar function and is made up of over three hundred companies and

organizations that practice fair trade. In existence since 1989, long before the concept of fair trade had gained mainstream acceptance, the World Fair Trade Organization was one of the first entities in this space. Today, it has members, primarily farmers and artisans, in more than seventy countries.
The World Fair Trade Organization has published ten principles of fair trade, largely the same as those put forth by the Fair Trade Federation, and members are required to demonstrate a strong commitment to each one. The organization examines every aspect of a business to determine whether it meets the criteria to join. If you see either association's logo on a product, you can rest assured that purchasing it will support a company that's fully committed to ethical practices at every step of the supply chain.