There are still barriers to equality for boys and girls in the African education system. In 2015, the UN set a goal of providing universal education by the end of 2015. Great progress has been made on reaching tis goal but more work is required. Schools are being built in regions that lacked the infrastructure and more and more kids are getting an education. Additionally, with help from Western aid, the cost of school has come down and is now very affordable for the majority of the African people.
The biggest challenge, providing barriers to equality, is still that the demand for schooling exceeds the amount of schools or supply of education. Some schools, with flexibility, are able to accommodate more students by holding classes outside. While this may help with the logistics, books, pencils, pens, chalk, blackboards and the necessities required to teach are still in short supply. These supplies are sometimes not covered under the public funding or aid certain schools receive.
While sitting outside may be a possibility, schools in Africa must provide opportunities for children to have meals and facilities to wash and clean themselves. This is why kitchens and toilets are critical parts of the infrastructure for emerging schools. The meals provided can be critical in driving attendance as unfortunately many children receive their best, and sometimes only, meal of the day at school.
The life-force of any school is its teachers and a major challenge is attracting and retaining the quality teachers. The schools that struggle most on both fronts are schools based in impoverished areas or struggle with resources and supplies.
One region that struggles more than most is North Ghana. Here there are many schools are staffed by unpaid volunteers, and this directly impacts students as these schools have a much higher drop-out rate than schools that have a high standard of teaching.
Another challenge is the misconception that the job is done once a government agrees to fund education and commit the budgets and resources. The truth is that is just where the challenge begins. People will need to focus on the outcomes and outputs, this is why the success metrics must be graduation rates and the amount of children developing reading, writing and numeracy skills.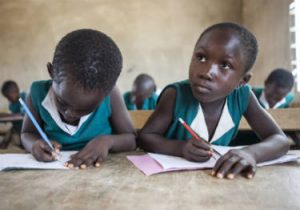 There must be an emphasis on the education of girls as many are still falling through the cracks. Families that are below the poverty line will frequently sacrifice the education of one child, usually the girl, if hard times approach. This occurs often when a family member becomes sick or there are issues with the harvest. In both of these cases, the child likely to be pulled form school will the oldest, female in the family. This further emphasizes the barriers to equality that still exist.