Maria Uyauri
"I live to create. I love to play with the fabrics and colors and I'm always looking for new themes and ideas."
"Hello. I'm María Uyauri Celis and I was born in Lima. When I got married, I found I needed to be able to do something
...
outside the house. One day while talking with a friend and neighbor, I mentioned that I wanted to work. She belonged to a women's support group. And in this way, I began to learn the appliqué art of arpilleria little by little.

"I remember a German woman came to our group and helped us with design. Once she held a contest and let us choose any theme. I chose 'The Peruvian Jungle.' She liked it a lot and I won first prize. But she was very demanding with me in class and I came to think that she didn't like my work because she never said anything to the others.

"This worried me a lot and one day I asked her about it. She said, 'Maria, your art and technique are very good. I just want you to be the best.' This helped me a lot and I put more and more of myself into my designs. I was able to do better day by day. She taught me to combine colors and how to make the details in proportion to the piece.

"I was in this group for about ten years. When I first began, we had a lot of problems with materials. We'd bring old clothes and would create our patchwork wall hangings with them. I found it fascinating, but my husband said we wouldn't be able to do much as we didn't have a way of creating a good piece. One day, we women got together and I decided that with the little bit of money we each could contribute, we could buy bolts of fabric and spools of yarn and thread. With these materials, we created our first pieces to sell.

"But eventually we came to have a lot of different opinions in our group. This helped me realize that it was time to work by myself. By then, I had wings and could fly on my own. I wasn't afraid. I felt certain that I could get ahead and I did.

"Today my husband and son help me. I've taught them to help with the finishing of each piece. These days I realize that what I feel becomes a part of every tapestry where I depict my experiences – what I do in daily life. I feel like my mind opens and I'm active. I live to create. I love to play with the fabrics and colors, and I'm always looking for new themes and ideas.

"I'm so grateful to you for the opportunity to show my art around the world. Each of my designs with their cheerful colors is meant to fill your home with happiness, love and peace."
Bloom
Hand Crafted Fabric Floral Garland from Peru
Botanical Garden
Folk Art Applique Patchwork Wall Hanging
Siren Song
Cotton Blend Arpillera Wall Hanging of Mermaids and Sea Life
Colorful Fiesta
Unique Cotton Wall Hanging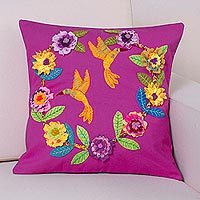 Hummingbird Cheer
Fuchsia Cushion Cover with Hummingbird and Floral...
Market Day in the Mountains
Handmade Multi Colored Peruvian...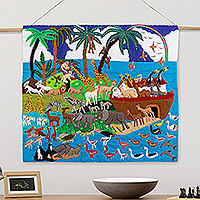 Noah's Gift
Handcrafted Biblical Folk Art Wall Hanging
World of Nature
Folk Art Applique Wall Hanging
Our handmade collection. Artfully crafted by global artisans.