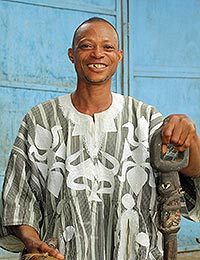 Christian Kwesi Tawiah
My plan is to create unique works and one day have a big workshop.
Christian Kwesi Tawiah is my name. I was born in Ve-Gbodome in the Volta region of Ghana in 1965. I could not continue my education past age, due to financial reasons. This was a very challenging moment for me. When you find your friends able to continue their education, and you cannot, there is a feeling of sadness. But I realized that continuing in the sad mood would not change my situation. I thought that making a lot of money was the way out. At that point the means to make the money was in galamsey (independent gold mining done entirely by hand). I was informed by friends that it was a lucrative business. I realized the high danger I put myself through, but I also could not stop. I just could not figure out any other options, so I had to continue despite the dangers and the fact that the return from this business was not as anticipated. Once in a while I took a break from the work and returned to Accra to relax. On one such day, I met an artist busy working with wood. I was amazed at what exciting pieces he produced from the wood. I drew closer and observed him at work for a long time. The artist, realizing the awe with which I observed him, offered me a seat, which I gladly accepted. Through our conversation, I realized one could make a living from the business. I decided to give it a try. I offered to run errands for him just to have the opportunity to be around to observe. Little did I know that I had a sharp memory! One day I picked up a piece of wood and with the tools available I carved out an Ibeji doll from memory. "Wow!", exclaimed my master, who was watching. He was thrilled at what I carved the first time and decided to assist me to improve on my skills. This is how I shifted from galamsey business to become a carver. The journey has been an interesting one indeed. I later relocated to Ivory Coast for a while, and there I joined group of artisans to carve pieces for export. I have learned different styles of carving, which has improved my work. I always thought up ways to market my products to get on the international market. Getting in contact with Novica is a great thing that has happened to me. Finally, I am on the international market--a long -awaited dream.
Our handmade collection. Artfully crafted by global artisans.